Rob Deady
Rob Deady
Biograph
| Name | Position | Address | Telephone | E-mail |
| --- | --- | --- | --- | --- |
| Rob Deady | MSc Research Student | School of Biological,Earth & Environmental Sciences, University College Cork | 353 (0)21 490 4677 | rob.deady@ucc.ie |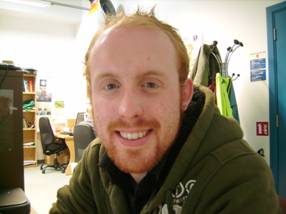 Rob graduated from University College Cork (UCC) in 2009 with a BSc in Ecology. He then went on to work for the PLANFORBIO team 'Planning and Management Tools for Biodiversity in a Range of Irish Forests' in UCC sorting and identifying Diptera, Hemiptera & Hymenoptera. After this, he worked as a research assistant in the marine section of the Aquatic Services Unit (ASU) in the Environmental research institute (ERI), Cork, where he processed marine invertebrate samples for identification by internal and external specialists whilst helping with fieldwork. Following this, Rob returned to work for the PLANFORBIO team to sort other taxa such as the Psocoptera and Aphididae present in canopy samples.
His final year dissertation investigated the differences between wooded oak trees and isolated oak trees (Quercus robur) in terms of canopy arthropod diversity, using Canopy Pitfall Traps, designed by Peter Smithers. This research was partaken as part of an ERASMUS trip to Plymouth University, U.K.
Rob is currently looking at saproxylic insects in managed forests in Ireland i.e. those insects affiliated directly and indirectly with deadwood, specifically the dipterous forms like the Mycetophilidae, Keroplatidae, Bolitophilidae and Diadocidiidae (Diptera: Sciaroidea).
Publications:
Deady, R. 2013. Four species of Mycetophilidae (Diptera) new to Ireland. Irish Naturalists' Journal 32(2): 145-147.
Deady, R., Irwin, S., Kelly, T.C., Chandler, P.J. and O'Halloran, J. 2011. What Diptera diversity does thinning debris and clearfell debris support in Irish plantations? ENVIRON 2011, University College Cork. Poster Presentation. Deady et al 2011 Poster