Research
Research
Anita Bundy Course Photo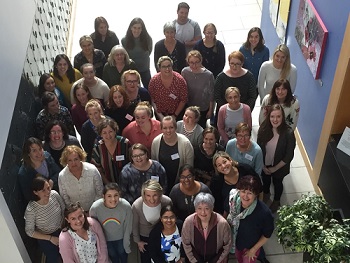 The Department of Occupational Science and Occupational Therapy has a strong commitment to research that is apparent through the range of undergraduate and post graduate programme for students and practitioners: from the research programme in Year 4 undergraduates, to the taught MSc , to the research MSc and the Phd and Clinical Doctorate programmes.
Within the Department, research is actively integrated into teaching and practice education, including research modules for the undergraduate (Years, 2, 3 and 4) and postgraduate students within the School. The undergraduate students engage in a research project in Year 4, based on an area of particular interest. To date a number of these projects presented at national and international conference level and have been published. Examples from 2009:
King & Hunt- British Association of Occupational Therapists Conference, UK

Wyer & Crausaz- National University of Ireland Galway, Health Promotion Conference
Hurley & Lynch- Irish Journal of Occupational Therapy
O'Connell & O'Sullivan, Irish Journal of Occupational Therapy
The department leads the taught MSc programme in Evidence-Based Practice where practitioners can take modules in research and then apply their learning to a research project towards their final master's degree. Presentations of these research projects have been given at conferences such as the World Federation of Occupational Therapists congress/ Irish Gerontological Society conference/ Intellectual Disability study day/ Association of Occupational Therapists of Ireland conference/Rehabilitation and Therapy Research Society conference.
Click the following link for the Report from the Research Quality Review of 2015: RQR Report 2015