State Commemoration
State Commemoration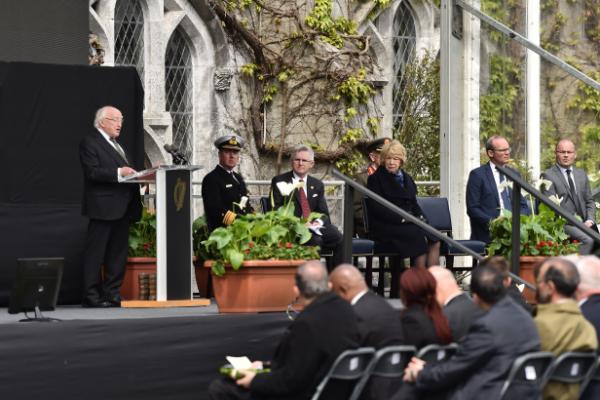 UCC was honoured to host the National Famine Commemoration 2018. The state ceremony took place on the Quadrangle, University College, Cork on Saturday, 12 May 2018.
The National Famine Commemoration was attended by President Higgins and was hosted by An Tánaiste and Minister for Foreign Affairs, Simon Coveney, TD, on behalf of the Government.
The ceremony was open to the public. The formal state commemoration commenced at 2pm and concluded at 3.30pm.
This was a formal state commemoration ceremony and includde military honours to An tUachtarán who laid a wreath on behalf of the people of Ireland remembering those who perished during the Great Famine. Wreaths were also be laid by Ambassadors to Ireland, the Lord Mayor of Cork, the Mayor of County Cork, the President of UCC in remembrance of all those who suffered or perished during the Famine.
President Higgins unveiled a commemorative plaque which will be mounted in St. Joseph's Cemetery, Cork, a burial ground which includes a number of famine plots. To commemorate UCC's role in hosting this event, an Arbutus Unedo or Strawberry Tree was planted by President Higgins. The tree will be sited in the President's Garden, UCC, a formal garden which contains historic plants dating from the foundation of Queen's College Cork.
The community programme included performances by members of the Vanbrugh, Niall Vallely, Mary Mitchell-Ingoldsby, Bríd McGowan, Karan Casey and the Cork Penny Dinners/High Hopes Choir with the UCC Choir and UCC Choral Society. Composer Sean Doherty has composed two new works, Fr McCarthy's Lament 1847 and Professor Boole's Farewell. Professor Patrick O'Shea, President, UCC read a poem collected in the US in ca. 1906, by Irish scholar and first President of Ireland, Douglas Hyde recounting an emigrant's forlorn trip from Galway to Baltimore, Maryland, USA. This manuscript was contained in the Houghton Library at Harvard University. The Lord Mayor of Cork and the Mayor of County Cork also performed readings. Transition Year students from Coláiste Chriost Rí displayed a project based upon the collections contained in the Cork Archives Institute.
Nomaxabiso Princess Maye a final year Bachelor of Social Work student was invited to read the prayer of remembrance at the Commemoration. Noma spent a number of years in direct provision in Cork and is now completing her degree examinations at UCC.