2015 Press Releases
2015 Press Releases
UCC celebrates seven billion dreams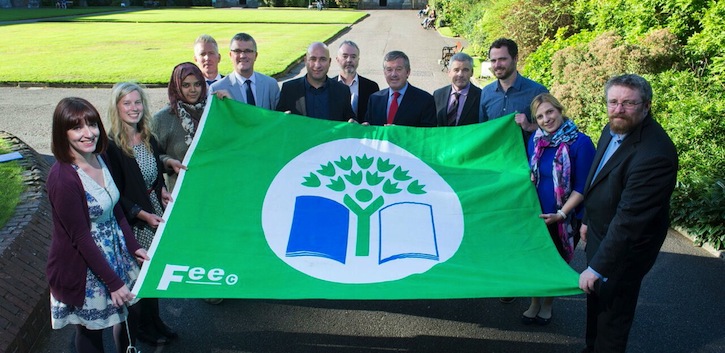 UCC's Green Flag will fly proudly on June 5 to mark World Environment Day (WED), with the university, 2nd in the world for sustainability, set to go green after dark.
As UCC joins in the global celebration of one of the biggest annual calls to action for positive environmental steps, WED is also an opportunity for the UCC and wider community to do something - big or small - for the environment this Friday.
As world's first green flag campus & 2nd for sustainability, we're proud to celebrate @UNEP #WED2015! http://t.co/qqp79RkfrE #7BillionDreams

— UCC Ireland (@UCC) June 2, 2015
A sustainable UCC
In January 2015, UCC's efforts in the area of sustainability led to the Universitas Indonesia (UI) Greenmetric World University Ranking awarding a second in the world ranking for the second year in a row. Now in its fifth year, the UI Greenmetric World University Ranking compares the efforts of universities towards campus sustainability and environment friendly university management, with 360 universities from 62 countries ranked in 2015. The reaction by the media and public was hugely positive.
UCC has been continuously recognised for its work in the area of campus sustainability over the last number of years. In December 2014, UCC was shortlisted as the only Irish representative along with 16 other companies from across Europe in the final of the European Business Awards for the Environment (EBAE).
It became the world's first Green Flag Campus for third level institutions in 2010, awarded by An Taisce and the Foundation for Environmental Education, an accolade that was renewed in April 2013.
UCC's Vice-President for Teaching & Learning, Professor John O'Halloran, a central figure in UCC's sustainability efforts, put the continued success down to "...the student led, research informed and practice focused mission of our green agenda."
Seven Billion Dreams
WED is the United Nations' principal vehicle for encouraging worldwide awareness and action for the environment. It is also a 'people's day for action', a catalyst for turning individual actions into a collective power that generates an exponential positive impact on the planet. This year, WED will be celebrated under the slogan of 'Seven Billion Dreams. One Planet. Consume with Care' to promote resource efficiency and sustainable consumption and production.

The well-being of humanity, the environment, and the functioning of our economies, ultimately depends upon the responsible management of the planet's natural resources. And yet, evidence is building that people are consuming far more natural resources than what the planet can sustainably provide.
UN Secretary General, Ban Ki-Moon has previously said: "Although individual decisions may seem small in the face of global threats and trends, when billions of people join forces in common purpose, we can make a tremendous difference."
So, what can you do - big or small - this Friday, June 5 to benefit our environment?