2015 Press Releases
2015 Press Releases
Independent Thinking 2015, UCC Alumni Magazine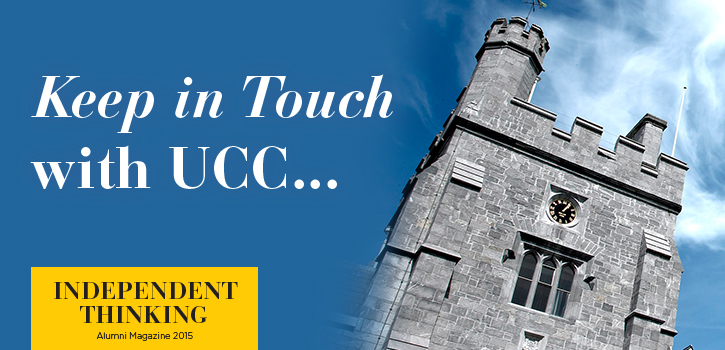 For the first time, copies of UCC's annual alumni magazine will be distributed simultaneously as an insert in the Irish Examiner and Irish Times on Friday, 5 June.

To support the university's George Boole 200 celebration, the magazine has a 'George Boole Bicentenary' theme and reflects the varied aspect of Boole's life, work and genius.
Hot off the press! #UCCmag15, Independent Thinking, available in tomorrow's @irishexaminer and @IrishTimes. pic.twitter.com/OzwThbfQf3

— UCC Alumni Network (@UCCAlumNetwork) June 4, 2015
To provide a balance, there is a great range of interviews and articles from staff, students and alumni who make up UCC's unique community of 'independent thinkers', along with regular favourites: UCC weddings, alumni events, reunions and sport.
The traditional printed magazine will be complemented by a new digital edition which will be distributed through social media and digital channels, embracing the digital space that George Boole helped to create.
The digital version of the magazine will be available online from 8am on Saturday 6 June at http://www.ucc.ie/en/alumni/
Read all about it! #UCCmag15 arriving soon on news-racks and doorsteps... https://t.co/1DXGlZLs8H

— George Boole 200 (@georgeboole200) June 4, 2015
UCC will visit every county 2moro... our alumni magazine will be in @irishexaminer and @IrishTimes :) https://t.co/WBWVIL1mif #UCCMag15

— UCC Ireland (@UCC) June 4, 2015