2015 Press Releases
2015 Press Releases
Get Sorted for the UCC Open Day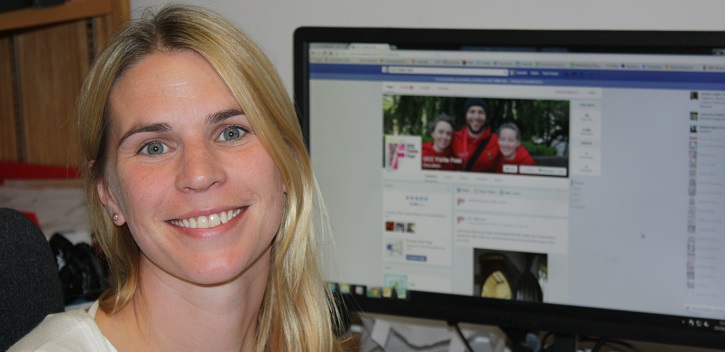 Ahead of the next UCC Open Day on 10 October, Deputy Admissions Officer Danielle Byrne offers the perfect guide (and yes, it involves the Lords of Strut and Harry Potter).
For a full schedule and to plan your day, see www.ucc.ie/opendays
---
1) Prepare to be amazed, amused and probably a little bit bewildered
...by Cork's own Lords of Strut. They will perform at 11am and again at 12.30pm in the amphitheatre (circular area) outside the Student Centre on UCC's main campus. No, UCC does not offer courses in comic acrobatics, but these two make us wish we did.
2) Attend one of the most popular talks of the day
UCC's First Year Experience Coordinator Noirin Deady will give a talk for parents at 10am in the Aula Maxima. Arrive early to be sure of a seat!
3) Get Sorted by the UCC Harry Potter Society
The now very famous UCC Harry Potter Society will be on campus throughout the day to answer all your wizardry questions and at 11.45am will hold a sorting ceremony.
"Better be...#Gyrffindor!" Join the NEW @hpsocUCC at @UCC & take your place in the #WizardingWorld! #HarryPotter pic.twitter.com/2P0H5aQMPb

— Caela Provost US Rep (@CaelaProvost) July 23, 2015
It's typical that when I left @UCC that they would set up a #HarryPotter society. http://t.co/uUGJDO9rdH pic.twitter.com/rco2RZeazG

— Greg Murphy (@TheGregMurphy) September 24, 2015
4) Mind your money
Get serious at the Finance and Grants talk at 11am in W6 and again at 3pm in Boole 2 with SUSI on the topic of grant applications.
5) Tour campus
Take a tour of campus with the UCC Visitors Centre, departing at 11.15am, 12.15pm, 1.15pm and 2.15pm from the Visitors' Centre in the North Wing. The tour guides are very strict so no chatting down the back! ;-)
A shout out to UCC's @jpquinn78 & UCC Visitors' Centre staff who do such excellent work - see @irishexaminer @flipkey-http://t.co/HRToDQo3g9

— UCC Ireland (@UCC) August 29, 2014
Our thanks to @EngIreCork for joining us today for a tour of the campus. Hope everyone enjoyed themselves! pic.twitter.com/6GxCGnigQh

— UCCVisitorsCentre (@UCCVisitorsCent) October 3, 2015
6) Get sporty at the Mardyke Sports Arena
Guides will be in the Mardyke Arena all day to show you around the top-notch sports facility, with formal tours at 11am, 12pm, 1pm and 2pm. Not sure where the Mardyke is? Look out for one of the friendly Student Ambassadors around campus and ask!
Great job being a Student Ambassador when the sun is shining. Mary, Louise and Jake outside Brookfield #UccOpenDay pic.twitter.com/27lmWYYreX

— UCC Ireland (@UCC) October 11, 2014
7) Food, glorious food
Ever wonder what it's like to be a piece of food? Well, wonder no more! The Alimentary Adventures inflatable tunnel, or as we like to call it – our giant, bouncy castle-like, walk-through gut – will be in Room G14 in the Western Gateway Building all day for you to learn about how the human digestive system works.
@Pharmabiotic @UCC helping out with "The Beast" today aka Alimentary Adventures for the open day in WGB great fun :) pic.twitter.com/tlw3ETlrqZ

— Risteard Ó'Mháirtín (@oldstockRmm) April 17, 2015
Come visit Alimentary Adventures @UCC Open Day -we're in Western Gateway pic.twitter.com/gtGDEgOaTV

— APC Microbiome Inst. (@Pharmabiotic) October 11, 2014
8) Pretend to be a medical student
Well kind of … well not really. But you can tour the Brookfield Health Sciences Complex, where Medicine and Health students are based. Tours depart at 11am, 12pm, 1pm and 2pm from the ground floor foyer/main entrance area of the building.
I wonder what's happening in Brookfield this morning? pic.twitter.com/eYdjBAMKnb

— UCC Medicine&Health (@UCCMedHealth) September 17, 2015
Our latest College of Medicine and Health newsletter is now live. https://t.co/3N7SJR0h4t pic.twitter.com/swHTEJ0j7s

— UCC Medicine&Health (@UCCMedHealth) September 30, 2015
9) Get arty
The Glucksman Gallery will give tours of one of the most beautiful buildings on campus – and the current exhibition of course – at 11am, 12pm, 1pm and 2pm. You can also take part in the Glucksman's photo competition by taking a photo of the gallery's architecture and post your image to Instagram using #glucksman #uccopenday.
#DarrenAlmond's works in #BooleanExpressions encourage us to reflect on how we measure & perceive the passing of time pic.twitter.com/hh2b81VGkS

— Glucksman Gallery (@glucksman) October 6, 2015
10) Continue your winning streak!
The UCC Photo Soc will also run a photo competition. Capture the essence of the day, or the campus, and tweet it @UCCAdmissions using #uccmakeyourmark or upload to www.facebook.com/UCCAdmissions and be in with a chance to win a very nifty One4All voucher. Nice!
Hope to see you there!
Photo pun alert! We shutter to think how you will click @ #uccopenday Sat 10th @UCC. @UCCPhoto planning a comp & nice prize #uccmakeyourmark

— UCC Admissions (@UCCAdmissions) September 30, 2015
Delighted to win Uni of Year! See @SunTimesIreland & more at http://t.co/zO6QBJhhQr #uccmakeyourmark #ucc #CorkAbú pic.twitter.com/DPvf7gAzz4

— UCC Ireland (@UCC) October 4, 2015