2014 Press Releases
2014 Press Releases
UCC employability initiative Works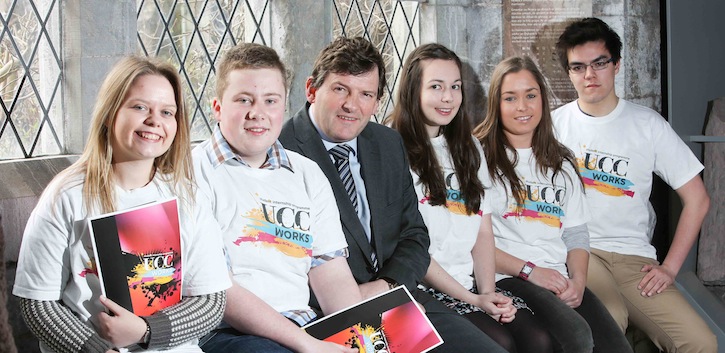 515 proud students have been recognised for their extracurricular activities under the UCC Works programme.
Now in its second year, uptake has rocketed from the 200 students who took part in the inaugural year of an initiative that formally recognises student contributions both inside and outside the college gates.
Students can sign up to one of three pathways, an internship with a campus organisation, a student life pathway which positions students in leadership and mentoring roles among college clubs and societies, as well as a volunteering pathway among the internal and external community.
Sarah Glascott, a final year Arts Ancient History student from Dungarvan, Co. Waterford is perhaps the student best qualified to speak about UCC Works, having completed not one but all three pathways.
"It was hard work but it was worth it, I'm hoping it will stand to me in the future. I'm seeking to carve out a career in radio", said Sarah, who hopes to study journalism next year.
Final year English and Maths student Ryan Sheehan from Carrigaline in Cork who undertook the volunteering stream praised the initiative for the experience and friends he had gained. "It will definitely add to your degree and make it more attractive to employers."
"Our goal was to provide students at UCC with opportunities to support their academic qualifications and develop their employability into the future", said Head of Career Services Seamus McEvoy. "UCC Works equips students with the competencies and confidence required for the workplace such as teamwork, problem solving, planning and interpersonal skills, as well as practical skills such as CV writing, job application and interview techniques."
Head of Student Experience at UCC, Dr Ian Pickup and Pádraig Haughney, UCC Students' Union President congratulated the 515 students on their resourcefulness, remarking that the initiative had contributed heavily to ensuring each emerged from UCC with a fulfilling and rounded student experience.
The UCC Works Award enables students to receive formal recognition for the learning gained from their involvement in extracurricular activities inside and outside of UCC