2014 Press Releases
2014 Press Releases
The next Des, Deirdre or Declan?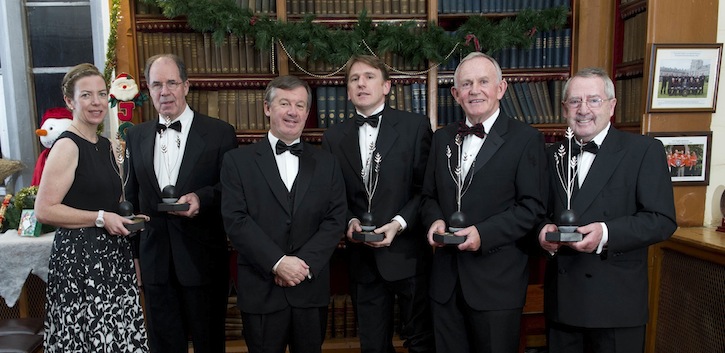 UCC's version of 'The Voice of Ireland' or 'X-Factor' may not take place until November, but the university seeks nominations now for the 2014 Alumni Achievement Awards (AAA).
Past distinguished alumni who received the award include comedian Des Bishop, Senator Deirdre Clune and former head of the Irish Rugby Team and current Director of Sport and Physical Activity at UCC, Declan Kidney, as well as poets Leanne O'Sullivan and Paul Durcan, and Una Fox, vice president in retail and ecommerce technology at Walt Disney.
There are four Alumni Achievement Award categories: the College of Arts, Celtic Studies & Social Sciences Award, the College of Business & Law Award, the College of Medicine & Health Award and the College of Science, Engineering & Social Science Award.
Nominations are also invited for a fifth Award, the Alumnus Award for Voluntary Service to UCC. This Award was introduced in 2009 to recognise the outstanding voluntary contributions made by many graduates to UCC.
Nominations should comprise a CV and/or a comprehensive profile of the nominee, together with an outline of why this particular graduate merits an award. Nominations should be sent to Ms Caroline Waters, Alumni Relations Office, UCC at alumni@ucc.ie by Friday 4th April.
The annual awards programme recognises the outstanding achievements of UCC alumni in their career or life-work. UCC has honoured over 60 distinguished alumni with AAAs to date. Among those are medic, Dr Edward Kiely, who led the medical team that seperated Cork conjoined twins Hassan and Hussein Benhaffaf, international physicists Professors Seamus Davis and Margaret Murnane and business leaders Leslie Buckley and Seán O'Driscoll. GAA's Dr Con Murphy and the late great Dr Tomás Ó Canainn, renowned uilleann-piper, linguist, composer, broadcaster and singer, are also among the 60 alumni recognised over the years.
(Above: UCC Professor Denis O'Mullane, PhD Emeritus Professor, Cork University Dental School & Hospital ahead of receiving his Alumnus Award for Voluntary Service to UCC last year)
The 2014 UCC Alumni Awards Gala Black-Tie Dinner will take place in the Aula Maxima, UCC on Friday, the 28th November 2014.
An Alumnus Achievement Award is the highest honour the University can bestow upon a graduate.
Full details available here.