2014 Press Releases
2014 Press Releases
BUMBLEance bound for UCC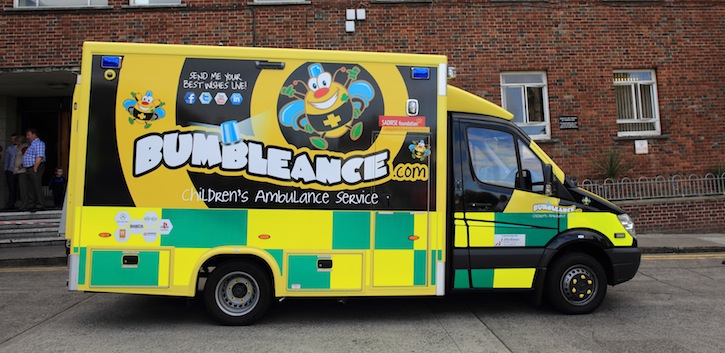 The world's first interactive ambulance service designed specifically for children will visit UCC on Thursday 27th March, and they need your old mobile phones to keep BUMBLEance buzzing!
UCC will be a hive of activity on Thursday 27th March as curious students, staff and members of the local community gather to greet BUMBLEance as it pays a visit from 11am-2pm.
UCC is rowing behind the efforts of Kerry family Tony and Mary Heffernan, a remarkable couple who have been a constant driving force behind a number of initiatives to counter the fatal Battens Disease. Under the umbrella of the Saoirse Foundation, a national support organisation named in memory of their daughter who passed away from Battens, initiatives like respite centre Liam's Lodge, named after their son who also has Battens, and of course, the colourful BUMBLEance, continue to push a once unheard of condition into the spotlight. CEO Tony Heffernan receives no salary, bonuses, top-ups, pensions or state support.
BUMBLEance welcomes anyone who would like to know more about their work, or who may have a mobile phone they wish to donate, to come to UCC's Amphitheatre (in front of the Student Centre) from 11am-2pm on Thursday 27th March. Those who donate a phone(s) will be entered into a national draw run by BUMBLEance, with a 2014 Mercedes the coveted prize. The charity hopes to reach the target of 100,000 phones donated by the provisional draw date, July 31st 2014.
Passersby can also purchase raffle tickets at one euro each on the day to be in with a chance of winning a number of prizes from local businesses, including The River Lee Hotel, Electric Bar and Restaurant, Sober Lane Bar, City Limits Comedy Club and UCC's Visitors' Centre, amongst others. All funds raised will go towards keeping BUMBLEance on the road.
UCC staff will also be able to donate their old phones in advance through the staff postal system (just pop your old phone in a standard envelope with your contact details and mark it "BUMBLEANCE, c/o Post Room, UCC).
The concept behind the non-profit state-of-the-art BUMBLEance is as simple as it is eloquent – transform what can be an incredibly stressful trip for critically ill children and their guardians into an altogether more pleasant journey.
Ahead of its flying visit to UCC, BUMBLEance will also visit St Catherine's Girls School, Model Farm Road from 9-10am and Scoil an Spioraid Naoimh Boys School, Bishopstown from 10-11am.
For further information, see the event page at: https://www.facebook.com/events/235215119935804/