2014 Press Releases
2014 Press Releases
Ten years of following dreams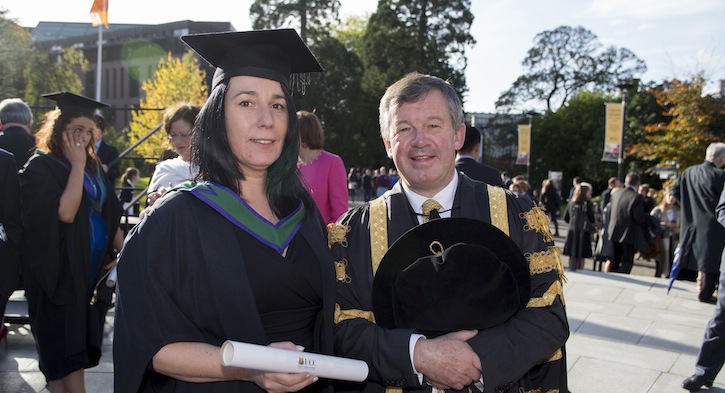 Kathleen Lynch TD will launch a historic publication at UCC on Monday 7th April as the Mature Student Office celebrates ten years of following dreams.
'Celebrating Ten Years with the Mature Student Office' highlights that there is no such thing as a 'typical' mature student, with 41 contributions from all walks of life, be they doctors, homemakers, entrepreneurs, electricians, bankers, musicians or simply a bigger dreamer than most. Taking place at 3pm in the Aula Maxima, UCC on Monday 7th April, all are welcome to attend this event in partnership with the Cork Lifelong Learning Festival.
As the stories within unfold, they provide not only an insight into the personal experiences of a mature student completing a degree programme in UCC, but also a moving account of those facing the harshest of realities - unemployment, serious illness and a biting recession. Their refusal to submit to circumstance when others might have faltered is testament to their positive outlook on life.
Age is not a barrier as Mary Raines from Youghal, Co. Cork, proves – she will be 76 years young when she finishes her PhD thesis in History. Madeline Forde from Ballyvolane in Cork City, who was 56 years of age when she graduated, is further proof of the value of lifelong education. She graduated with a BSocSc in Youth and Community Work in 2003 and is now a Project Worker with the Dept of Children and Youth Affairs Schools Completion Programme in Dublin Hill, Cork. She quipped, "To live is to learn and, having lived a lot, I decided to learn some more". She has also served on the Governing Body of UCC.
Owen Dineen from Wilton in Cork was 45 years old when he graduated and the first mature student to receive Graduate of the Year Award (2009), the highest accolade awarded by UCC. He is also a Governor of UCC and a member of the Senate of the National University of Ireland.
Law graduate and mother-of-six Kathy Bunney from Rochestown, who was 43 when she graduated, was awarded a gold medal in the Undergraduate Awards for her essay on mental health law and has been recognised multiple times as a student leader at local and national levels. She has also held the role of Mature Student Officer in UCC and was a recipient of a Ronan Daly Jermyn Law Scholarship. Further studies in the area of marine law are on the cards for Kathy.
Graduate Eve Neylon from Cloyne, Co. Cork now works as associate producer for Shine Australia, the largest production company in Australia and she has had a fascinating career in the media sector.
Kerry woman Mary O'Sullivan, who hails from Curraheen in Tralee, is at the helm in steering mature students to university success in UCC. Mary is the head of the Mature Student Office in UCC and a former Governor. She was a mature student herself and graduated in 2002 with a primary degree in Applied Psychology (Hons).
The Mature Student Office was established in 2003 with the aim of boosting access to university education for mature students. 288 mature students were registered in the first year, but that figure is now dwarfed by 1,191 current registrations a decade later.
All are welcome to attend this free event on Monday 7th April at 3pm. Please contact Leah Neville on 021 4901873 or l.neville@ucc.ie to RSVP as spaces are limited.
To read 'Celebrating Ten Years with the Mature Student Office', click here.