2014 Press Releases
2014 Press Releases
Green Campus bound for Europe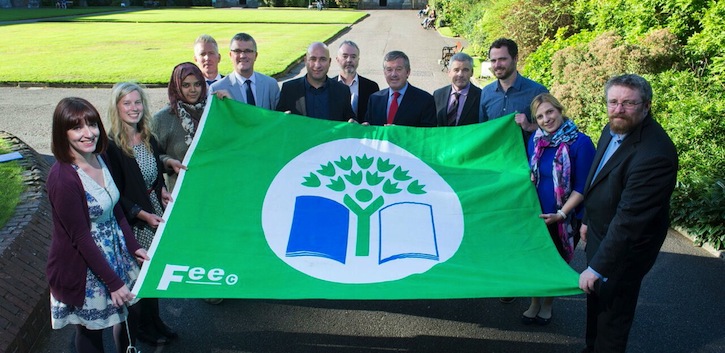 The UCC Green Campus Programme will represent Ireland in the final stages of the European Business Awards for the Environment (EBAE), the only Irish presence across the entire competition.
Run by the European Commission, the EBAE enters its final stage with 17 European companies shortlisted across five categories out of 152 total entries from 22 countries. The UCC Green Campus Programme is one of only four businesses shortlisted in the environmental management category.
The winners will be announced at a ceremony in Lyon, France on Monday 1 December 2014.
University College Cork is an #EBAE #Management Award finalist! http://t.co/UoZVOgKeuw via @eu_env #EU4Business pic.twitter.com/95pYiVpjuu

— UCCBuildings&Estates (@UCCBandE) November 27, 2014
UCC was selected to take part in the EBAE, which recognises eco-innovation companies that successfully combine innovation, competitiveness and outstanding environmental performance, when they emerged as runners-up in the Environmental Management category of the Ibec Environment Awards.
UCC's student-led Green Campus programme promotes good environmental practices by both staff and students and is modelled on the Green Schools Programme. It deals with every aspect of UCC's environmental practices including litter and waste management, biodiversity, energy efficiency, procurement, water-use and transport issues.
UCC into finals of 2014 European Business Awards for the Environment (EBAE): University College Cork is among ... http://t.co/Q1q29sheRV

— Business&Leadership (@thebusinessday) September 23, 2014
Daniel Schaffer, newly appointed CEO of FEE (Foundation for Environmental Education) recently paid a courtesy visit to UCC. UCC was the first university in the world to be awarded the status of a Green Campus by FEE and An Taisce in 2010, a feat it retained in 2013.
UCC Only Irish Contender At European Business Awards For The Environment http://t.co/rUEMyRMB5g

— Cork Chamber (@CorkChamber) September 25, 2014
Key achievements of UCC's Green Campus programme since its launch in 2007 include:
Increased the level of recycling from 21% up to 75%, saving approx. €900,000 in waste disposal costs
Saved 750,000 m3 of water through projects such as installing waterless urinals, an early warning system to indicate a leak on the main water supply and encouraging leak reporting
In past 5 years cycling among staff has increased from 6% to 12%
The total campus energy consumption has been reduced by 9% through a university-wide campaign and various energy saving projects
UCC's approach to sustainability saw it

climb to 2nd place

in the Universitas Indonesia (UI) Greenmetric World University Rankings in January 2014
The programme has won numerous other awards in the last two years including a Green Award, Excellence in Environment Award, Leader in Sustainable Energy Award and a Best Green Public Sector Award
UCC was the first University in the worldwide to be accredited with ISO50001 for our Energy Management programme in 2011
See Green Campus website for more at

http://www.ucc.ie/en/build/environment/greencampus/
Dr Michael Murphy, President of UCC, welcomed the news, praising the energy, dedication and good citizenship demonstrated by students and staff across the university.
Professor John O'Halloran, Vice President for Teaching & Learning at UCC, who has been heavily involved in delivering the Green Campus programme, commented: "This achievement is reflective of UCC's mission to remain a truly 'Green University' thanks to our student-led, research informed and practice focused approach."
Ibec Green Business Executive Anne Murphy remarked: "Taking part in the awards is a great opportunity for the UCC Green Campus Programme to promote best practice and showcase Irish innovation on an international stage. It was tough to select the organisations for the European Awards as we had a record number of 50 entries, companies both SMEs and multinationals taking part in the Ibec Environment Awards."
.@UCC nominated for top European environmental award http://t.co/5TIHH1nyye

— Eoin Lettice (@blogscience) September 25, 2014
More information on the awards can be found at: http://ec.europa.eu/environment/awards/
Via @ibec_irl - Congratulations @UCC for getting into the European Business Awards for the Environment final http://t.co/YMdbQJrGHT

— European Movement (@emireland) September 25, 2014