2014 Press Releases
2014 Press Releases
UCC thrives in university guide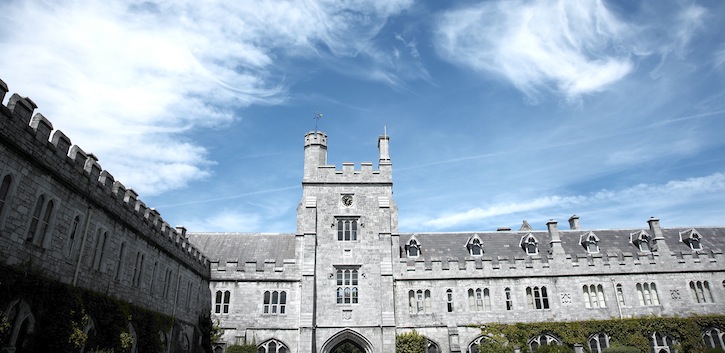 University College Cork has been named runner-up in The Sunday Times Good University Guide 2015, with its performance in research income per academic leading the field.
UCC ranks third place overall in this year's Sunday Times league table. It's identified as a strong all-rounder in the higher education sector - it leads in terms of academic performance and research, but also offers innovative courses. The University of Limerick has been named The Sunday Times University of the Year. Galway Mayo Institute of Technology is The Sunday Times Institute of Technology of the Year, with IT Carlow the runner-up.
The third toughest university to get into, UCC secures the second best score for firsts and 2:1s achieved, at 67%, placing it behind only Trinity College Dublin and Dublin City University in this category.
UCC is once again best in terms of research income per academic. Its number of research awards rose by 43% last year, similar to the level achieved prior to the downturn. Research monies from the industrial sector have increased by 750% since 2008. The college has established PrimeUCC, the first service of its kind in Ireland, which will assist researchers to win and manage EU Horizon 2020 research funds worth nearly €80bn.
Full details will be published in a special 16-page supplement to be published free with the newspaper this Sunday, September 28. The guide contains a league table that measures the performance of third-level institutions.
The Sunday Times Good University Guide is now in its 13th year of publication. It provides rankings for Irish third-level institutions, together with profiles of each institution and a view from students of what it is like to study there. It also contains the first full listing of 2015 courses and the first round entry points needed to access these courses from the recently-completed 2014 admissions cycle.
The online edition available at www.thesundaytimes.ie/gooduniversityguide features fully searchable tables on each of the measures on which institutions are ranked, together with extended profiles of each. It also contains full access to the newspaper's UK university guide published last weekend.
Information courtesy of The Sunday Times