2014 Press Releases
2014 Press Releases
First UCC Board of Governors' meeting in Co Waterford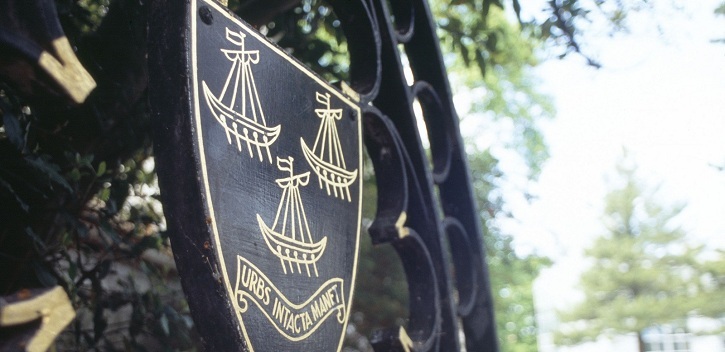 The UCC Board of Governors is holding its first meeting in the chambers of Waterford City Council to mark the close ties between UCC and the Waterford this week.
Professor John A Murphy will give a short talk at the Board of Governors lunch about the historical links between UCC and Waterford.
University College Cork was established in 1845 and is ranked in the top 2 % of universities worldwide, based on the quality of its research output and peer esteem. UCC is Ireland's first Five Star University (QS Stars 2011) and has c 20,000 fulltime students and 3,000 staff.
The University offers approx. 120 degree and professional programmes the Humanities, Business, Law, Architecture, Science, Food and Nutritional Sciences, Medicine, Dentistry, Pharmacy, Nursing and the Clinical Therapies.
UCC is an internationally-competitive, research-led university that plays a key role in the development of Ireland's knowledge economy. In the recently published Sunday Times University League Table of Irish Universities, UCC topped the research category for the third year in a row.
The quality of the University's research is key to its international reputation. The first professor of Mathematics was George Boole (1815-64) who was famous for his Boolean Algebra which is the basis of digital computing systems. In the past five years the University earned over €401 million in research income.
UCC researchers collaborate with close to 700 of the world's top universities across 110 countries and 62% of Ireland's most highly cited researchers are from the University. UCC's research income was €401 million over the past five year period.
The University leads four and co-leads a fifth of seven centres created by Science Foundation Ireland (SFI) in the largest joint state/industry research investment in Irish history worth €300 million announced last February. At the SFI Summit in Athlone last autumn UCC professor, Fergus Shanahan, was named this year's SFI Researcher of the Year. Professor Shanahan is a leading international expert in gastrointestinal research and Director of the SFI funded Alimentary Pharmabiotic Centre in UCC.
At the international level, UCC was the most successful university in Ireland in gaining EU FTP7 research grants at 23.7%. Income from new awards in 2013 from the EU was €13.1 million, a 170% increase since 2008/2009.
UCC's research has helped create new jobs with the establishment of 10 campus companies which currently employ 110 people. The University has signed 73 licences (including options and assignments) in the last five years with both SMEs and Irish and Irish based multinationals.
UCC links to Waterford
Approximately, 5% of the University's annual undergraduate intake comes from County Waterford.
The total number of students from Waterford currently registered is just short of 900. This figure is comprised of undergraduate, postgraduate and Adult Continuing Education students. The schools in Waterford that supply most students to UCC include CBS Dungarvan, Ardscoil na nDeise, Dungarvan, St Augustine's Tramore, Meánscoil San Nioclás, Tramore, and Blackwater Community College, Lismore.
UCC PLUS+ has strong links with Waterford schools and the University is presently linked with five schools in Waterford City and County. The UCC PLUS+ Programme Provides Links to under-represented school-leavers and supports students entering UCC via the HEAR Scheme. These students participate fully in our wide range of pre-entry activities that are both school based and on campus. Many of the students from the linked schools choose to study in UCC and gain access through the HEAR (Higher Education Access Route) as part of the Central Applications System (CAO).
National Academy for Integration of Research and Teaching and Learning (NAIRTL)
UCC is the founder and lead partner of the Irish National Academy for the Integration of Research, Teaching and Learning (NAIRTL) of which the WIT is one of its partners along with CIT, NUIG and TCD. NAIRTL promotes innovation, supports development and sustains good practice that links research with teaching and learning. The importance of its activities and its success has been emphasised in the National Strategy for Higher Education.
Many of UCC's graduates are employed in Waterford firms that include Teva Pharmaceuticals, Genzyme, Dawn Meats, Ernst & Young, FDC, Dungarvan, Codico Distributors, Nemeton Television Productions, Dungarvan, Eurofins Lancaster Laboratories, Dungarvan, Hasbro, Zurich Insurance, Glanbia, Dungarvan, GSK, Dungarvan
Sport
Waterford students and graduates have added lustre to the reputation of UCC sports. These include
Hurling:Tom Fives– UCC Sports Star Award winner – 1993/94, Sports Scholarship recipient; Johnny Brennar - UCC Sports Star Award winner – 1993/94, Sports Scholarship recipient;Eoghan Murphy - Sports Scholarship recipient; Darragh Fives - Sports Scholarship recipient; Richie Foley - Sports Scholarship recipient; Brian O Sullivan - Sports Scholarship recipient;Paudie Prendergast - Sports Scholarship recipient, Current student;
Camogie & Ladies Gaelic Football: Grainne Kenneally, Ladies Gaelic Football & Camogie - Sports Scholarship recipient
Golf: Declan King - Sports Scholarship recipient, competed at the World Student Games; Kevin Slater - Sports Scholarship recipient
Ladies Soccer: Linda Douglas - Sports Scholarship recipient, Irish Universities Squad
Racquetball: Eithne Skeehan - Sports Scholarship recipient
Basketball: Stephanie O Shea - Sports Scholarship recipient, Waterford Wildcats BC
UCC alumni from Waterford
Waterford alumni span the fields of sport, arts and business including the late Poet Seán Dunne who contributed so much to the cultural life of Cork. Other alumni include: Dr Anita Geoghegan, Microchem Labs; Tom Caulfield, Chairman, Caulfield Supermarkets; Professor Seamus Condon, UCC; Professor Caroline Fennell, UCC; Prof Tom Cogan, Moorepark Research Scientist; Gerry Sheridan, MD Sheridan Motor Group
Medical/Health links with Waterford
The Report on the Establishment of Hospital Groups as a Transition to Hospital Trusts (Higgins 2013) approved by the Cabinet on the 14.5.13, introduced a fundamental change to the alignment, management and governance of acute hospitals in this country. At its core is the establishment of six hospital groups one of which is the South/South West Hospital Group. The report states that an Academic Healthcare Centre model may be used to provide overarching governance structures for the relationship between hospitals within a group and their primary academic partner.
Establishment of the South/South West Hospital Group sees Waterford Regional Hospital, South Tipperary General Hospital and Lourdes Orthopaedic Hospital, Kilcreene, along with the already aligned Cork and Kerry hospitals linked with University College Cork as their primary academic partner.
Waterford Regional Hospital in partnership with UCC will develop and expand its academic and clinical infrastructure as a major university teaching hospital within the new group.
After detailed discussions between UCC and the clinical staff in Waterford, three immediate actions have been prioritised:
• Formal name change from Waterford Regional Hospital to Waterford University Hospital
• Academic appointments to Waterford University Hospital
• Provision of 24/7 Percutaneous Coronary Intervention (PCI) at Waterford University Hospital
Food/Industry links
Food for Health Ireland (FHI) Research Consortium
Food for Health Ireland is a research consortium with the objective of developing new functional food ingredients and products. A 'functional food' is one that serves a purpose beyond basic nutrition, promoting health or reducing the risk of certain diseases. UCC and Glanbia PLC are active partners in Food for Health Ireland which also includes UCD, UL, Enterprise Ireland, Moorepark Food Research Centre, Teagasc, Carbery Group, Dairygold Co-Op Society Ltd, Kerry Group PLC.
The Food Industry Training Unit at UCC was established 21 years ago in response to a demand for part-time accredited courses for people at work in the food industry. The Unit's first qualification was developed and delivered in 1993 following an approach to the University from the food industry in the South-East (mainly County Waterford) and FÁS in Waterford to run a Food Science and Technology qualification to up-skill people already working in the food industry in the south-east region. From small beginnings in 1993 the Food Industry Training Unit now runs five Diploma programmes annually in technical areas such as food safety, food processing and artisan food production as well as management development courses. In addition, the Unit runs customised training courses commissioned by food companies for their staff annually.
Links with An Rinn Gaeltacht area
The College of Arts and Social Sciences at UCC is also involved in building up strong relationships in the wider Waterford area. The Department of Modern Irish has organised very successful short courses for its undergraduates involving talks and interviews with native speakers. A new certificate in Modern Irish, based in Rinn and using local teachers in collaboration with Professor Pádraig Ó Macháin will be offered this autumn. These initiatives are part of an ongoing discussion between the Department of Modern Irish with Ring as to how best the educational, social and industrial facilities of het Waterford Gaeltacht might be used in collaboration with UCC, particularly with regard to providing introductory courses for visiting students.
Some staff links between UCC and WIT
UCC and WIT have a Science Foundation Ireland strategic cooperation award with Brazil in the College of Science, Engineering and Food Science. Dr Darius Whelan, Department of Law, UCC is an external examiner on WIT's BA in Legal Studies while Dr Fred Adam, Department of Accounting , Finance and Information Systems is a research supervisor in the Doctorate of Business Administration – a practitioner doctorate in the area of Information Systems at WIT. Dr Philip O'Reilly has a long standing research partnership with Dr Aidan Duane in the WIT on mobile payments, social media and business models and he also is an external examiner for the WIT MSc in Global Financial Information Systems.
Two UCC Sociology PhD graduates are Faculty members of WIT – Dr Tom Boland and Dr John O'Brien and there has been great collaboration between the two institutions in the annual workshop in International Anthropology and in the Sociology summer schools, which attract students not just from Cork and Waterford but from Canada, USA, Mexico and Europe.