2014 Press Releases
2014 Press Releases
UCC sporting students shoot for the stars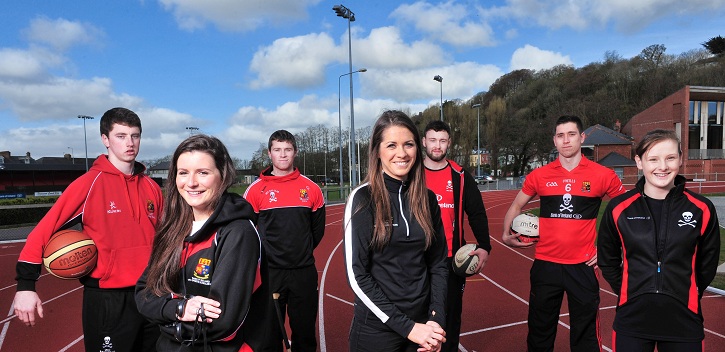 UCC's top young sports stars were honoured by the University at the Sports Star Awards 2013/2014 with World Race Walking Champion, Robert Heffernan, as the Guest of Honour.
Robert is just back from a training camp in South Africa where he took UCC race walking athlete Luke Hickey with him to experience that level of training. The awards took place in the River Lee Hotel today (Thursday 17 April) with personalities from the world of sport, coaches, parents, students, UCC Clubs Executive and UCC staff in attendance.
The Annual Sports Star Awards, now in their 31st year, recognise outstanding sporting performances from UCC sports club athletes. The awards were presented by Guest of Honour, Robert Heffernan, World Race Walking Champion in 2013,and Dr Michael Murphy, President of UCC.

UCC's Director of Sport and Physical Activity Declan Kidneypraised the sports stars, their coaches and the sports clubs for their performance for UCC in 2013/2014:

"The students and clubs continue to wear the skull & bones with pride and have had another very successful year - with successes in Intervarsities, and local competitions. Winning the Sigerson Cup in Belfast was a tremendous achievement, a victory achieved against all the odds. The Men's Hockey Club continue to progress and have qualified for the All Ireland League in 2014-15, the first time in the Club's history. They will be joined in the All Ireland Leagues by their female counterparts. Both Hockey Clubs have had tremendous seasons playing in several Munster Cup Finals at all levels, a testament to the clubs coaches and the commitment of the players.
The soccer club continue to lead the Munster Senior League and we are hopeful that they will go one better than last year and win the league for the first time in the club's history.
The Rugby Club unfortunately lost out on promotion to Division 1B of the AIL following a final day defeat by City of Derry.
All in all this has been a tremendous year for UCC sport"
The River Lee Hotel continues to be the main sponsor of this event with the Bank of Ireland as co-sponsor. The event is organised annually by Christine O' Donovan, Deputy Director of Sport & Physical Activity at UCC.
Irish Sprint athlete, Phil Healy from Bandon receives her first award as a fresher for her outstanding performances in the indoor season during the winter months. She is U23 indoor 60m champion & Intervarsity 60m champion in a new national record at U23 level. She is taking this form outdoors as well following her 100m wins at the Leevale AC Open Meet & the track & field intervarsities held in Waterford at the weekend. She is a current UCC High Performance Scholarship athlete.
Former Irish U21 International Hockey player & European Medal winner in 2012, Aine Curran was also being honoured. Aine is being honoured for her outstanding dedication to UCC Ladies Hockey Club and her performances for the team this year as they have qualified for the All Ireland League in 2014-15 following their runners-up spot in the Munster Senior League. UCC were also beaten Munster Senior Cup Finalists. She is a member of the Munster Senior Hockey team and has been tremendous for UCC all year. She is a current UCC Sports Scholarship recipient.
Josh O Shea was the Soccer recipient and receives the award for his immense contribution in ensuring UCC are top of the Munster Senior League and are in with a great chance of winning the league this year. He was part of the UCC team who were runners up in the league last year. He was part of the Irish Squad who played in the World Student Games last summer in Kazan, Russia and started all matches. The Irish team had their best ever finish in the event, finishing in 6th place. He is a current Roy Keane Sports Scholarship recipient
Adrian O Sullivan receives his award for Basketball. Adrian is another first year student to receive an award this year. He receives his award for his performances for UCC in the fresher's intervarsities where he was top scorer. He also competed for UCC in the college's league & senior intervarsity. Adrian played with UCC Demons in the Superleague & National Cup competitions and received significant court time. He will be remembered for his equalizing point in the Senior National Cup semi-final to take the match into extra time. He was also top scorer in the Senior Men's Champions Trophy semi-final scoring 25 points in UCC Demons victory. He has won 2 Senior Cup titles with UCC Demons in his first season as a Superleague player. He is a current UCC High Performance Sports Scholarship recipient
Inter-County hurler Conor Lehane, receives his second UCC Sports Star Award. He receives his award for helping UCC win the Higher Education Colleges League and getting UCC to Fitzgibbon Cup semi-final. His performances for Cork in reaching the All Ireland Final and his home club Midleton all deserve recognition. He put in "Man of the Match" performances for Midleton at U21 & Senior level in winning 2 county titles in 2013. He is a current Michael J Dowling Sports Scholarship recipient
His Cork colleague Seamus Harnedy is also recognised. He receives his first UCC Sports Star Award for his performances for Cork throughout 2013. He received an All Star for his performances in 2013. His performances for UCC last year saw him recognised by the Cork selectors and he has gone from strength to strength. Unfortunately injury limited his playing time for UCC this year but he was part of the Fitzgibbon Cup squad in the quarter & semi-final stages. He is a current Michael J Dowling Sports Scholarship recipient
Kerry senior Intercounty player Paul Geaney is one of two Gaelic Football recipients. Paul played a captains role in UCC's Sigerson Cup victory in Belfast and he received an HE All Star Award for his performances. He is a current UCC Sports Scholarship recipient.
Cork man Conor Dorman also receives an award for his performances for UCC in that Sigerson Cup win. Conor was outstanding throughout the competition and scored the winning point. He was awarded "man of the match" for his performance in the final. He is current Cork U21 captain and led them to Munster Championship success last week, and is a member of the Cork Senior squad. He is the current UCC Cadbury U21 Sports Scholarship recipient
UCC Rugby Clubs success in the All Ireland Division 2A League sees Paul Derham receiving an award. Paul joined UCC at the beginning of the 2013/2014 season from Cork Con and has had a tremendous season. He has overcome a potentially career threatening injury. He has represented Munster at U19 and U20 levels. He has featured prominently in every All Ireland League game this season. His dedication to training, never say die attitude and sense of fun whilst always respecting the game and its traditions has earned the admiration of his fellow players and coaches alike.
Powerlifting is recognised for the first time at the awards ceremony. Abigail Cronin receives an award in recognition of her performances in this sport. A relative novice, having taken up the sport 3 years ago, she is now Intervarsity, Irish, European & World champion at U63kg weight & 18-20 year old category. She is National Record holder for Squat, Bench Press, deadlift & Full Power for her age & weight category. She is a member of the Irish team that will compete in the World Single Lift Championships in Germany later this year
Emma Cassidy, receives her award for her performances in swimming. Emma is another fresher to receive an award this year. She receives her award for her performances for UCC & Sundays Well Swimming Clubs. She is Intervarsity Champion in 50m & 100m backstroke, Celtic Nations Champion in 50m & 100m backstroke & Irish Short Course Champion in 50m backstroke at Senior Level while still only 18 years old. She is a member of the Cork Elite Training Squad and part of the Irish High Performance squad. She is a current UCC Sports Scholarship recipient.
This year's Special Achievement Award known as "The Kieran Dowd Perpetual Award" was presented to Mr John Mac Carthy, President UCC Soccer Club in recognition of his years of service to the soccer club. John works tirelessly behind the scene to ensure UCC students represent UCC in the Munster Senior League, Cork AUL & colleges competitions throughout the year.
UCC also presented its annual "Hall of Fame" Award at the event. This award is presented to a UCC Graduate who has excelled in his/her field &/or sport. This award alternates between club & society Graduates. This year's recipient is Dr Eanna Falvey, who graduated from UCC in 2000 with a medical degree. In February 2014 he received his PhD from UCC. Eanna is a former International Superheavyweight Boxer, National Senior Superheavyweight Champion 2002, National Intermediate Heavyweight Champion 1997 & a former UCC Sports Scholarship Recipient, and indeed former UCC Sports Star Award recipient in 1996/97 & 1997/98
Eanna is currently Director of Sports & Exercise Medicine, Sports Surgery Clinic, Santry, Team Doctor for the Irish Senior Rugby Team, & Irish Amateur Boxing Association High Performance Unit, & is a Research Fellow at the Centre for Health Exercise & Sports medicine, University of Melbourne.
The full list of UCC Sports Star Awards 2013-14 winners is as follows:
Phil Healy Athletics Bandon, Co. Cork
Adrian O Sullivan Basketball Ballincollig, Co. Cork
Paul Geaney Gaelic Football Co. Kerry
Conor Dorman Gaelic Football Cork
Aine Curran Hockey (Ladies) Kilkenny
Conor Lehane Hurling Midleton, Co. Cork
Seamus Harnedy Hurling Co. Cork
Abigail Cronin Powerlifting Bantry, Co. Cork
Paul Derham Rugby Douglas, Cork
Josh O Shea Soccer Cloyne, Co. Cork
Emma Cassidy Swimming Cork
Kieran Dowd Special Achievement Award: John MacCarthy, UCC Soccer Club
Hall of Fame Award: Dr Eanna Falvey, Team Doctor for the Irish Senior Rugby Team, & the Irish Amateur Boxing Association High Performance Unit