2014 Press Releases
2014 Press Releases
Careers Service honoured with Engagement Award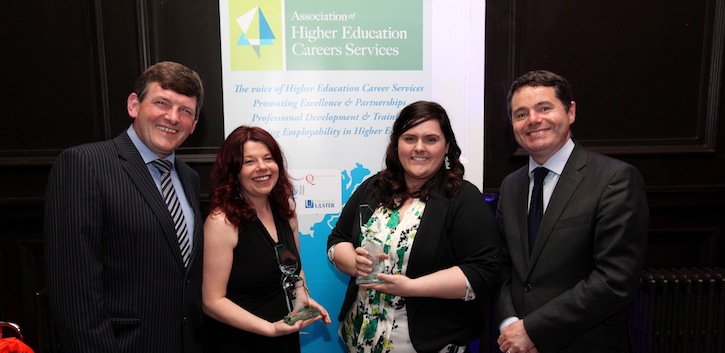 UCC's Careers Service has been recognised by the Association of Higher Education Careers Services at their annual awards under the 'Engagement' category.
This award acknowledges the substantial engagement between external organisations and the UCC Careers Service and the beneficial impact on undergraduate and graduate recruitment and employability.
The achievement is based on a partnership initiative with Cork Volunteer Centre to facilitate high quality work placement opportunities for UCC students in the not for profit sector.
UCC Career Services and the Cork Volunteer Centre are currently working in tandem on a number of initiatives including a work placement module for the Bachelor of Arts degree in the College of Arts, Celtic Studies and Social Sciences, the UCC Works Volunteering Pathway and the annual UCC Volunteering Fair.
Elaine Browne of the UCC Careers Service and Emily Harrington of the Cork Volunteer Centre were presented with their awards by Minister Paschal Donohoe at a ceremony in the Mansion House in Dublin, which was attended by more than 500 representatives from industry, professional bodies and higher education.