2014 Press Releases
2014 Press Releases
MBS offers gateway to Asia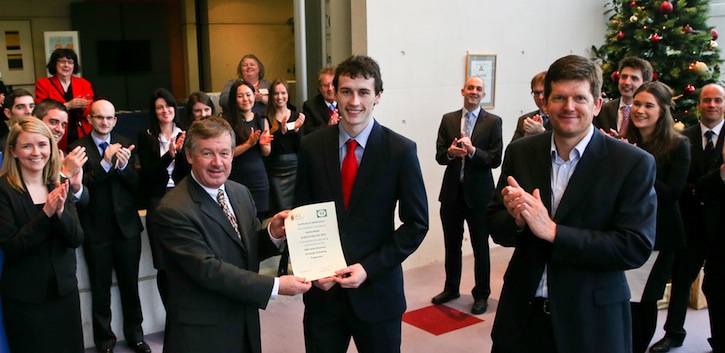 Emerging professionals who seek a competitive edge when it comes to doing business in Asia won't want to miss this scholarship opportunity.
UCC, the Farmleigh Fellowship and Nanyang Technological University in Singapore have launched a call for applicants on their 2014 Masters in Business Studies (MBS) in Asian Business scholarship programme (valued at over €30,000 per participant).
The 12-month programme commences in September 2014 and is open to all graduate-level professionals with a minimum of 2-3 years business experience. Applications, which must be submitted by 30th May 2014, are invited from ambitious, early-stage professionals who wish to strengthen their learning and business experience in Asia.
Successful completion of the programme gives graduates a world class international business qualification, solid work experience in Asia, the world's fastest growing economy and the distinction of being a 'Farmleigh Fellow', leading to a prestigious business network that is highly regarded, both in Asia and in Irish business and government circles.
Programme Director Michael Murphy comments: "With China now the world's second largest economy, and the Asian region as a whole home to over half of the world's population, it is understandable that more Irish companies are looking to Asia to grow their business. Significant Irish Asian success stories are already a reality in the areas of dairy produce, with companies like Glanbia and Kerry Group serving the rapid growth in the demand for high quality dairy products in Asia, such as infant milk formula in China. Indeed one of my Chinese students attending UCC was telling me that when they are going back home to China, they get requests to bring Irish infant milk formula back with them, rather than any souvenirs, such is its value in China."
He further commented: "This is a unique programme in Ireland, in that it gives the participants a very rich grounding in understanding Asian culture, along with an in-depth understanding of the Asian business environment, delivered by expert academics and practitioners, in Singapore, as well as a sponsored and fully-mentored five-month business placement in Asia."
The programme has so far generated 65 Farmleigh MBS alumni who have supported Irish or Irish-linked companies in Tokyo, Shanghai, Hong Kong, Fiji, Kuala Lumpur, Beijing, Jakarta, Yangon and Singapore.
The positioning of graduates of the programme to date is enviable, with a 100% success rate in Fellows reaching graduation and subsequently securing full-time employment, predominantly in Asia.
"I am now exactly where I want to be– in a role that challenges me, working at a great company and living in a fantastic city", remarked Paul Hanlon, who works in Project Management at Apple in Singapore.
"I was catapulted into a network of like-minded people, and opened to an environment rich in opportunities", commented Michael Noble, founder of Noble Solutions & Noble Education in Vietnam.
For further information, contact Dr Michael Murphy on 021 – 4903373 or mjm@ucc.ie or see www.farmleighfellowship.com