News and Events
News and Events
GatewayUCC Seminar Series with Atlantic Bridge and Enterprise Ireland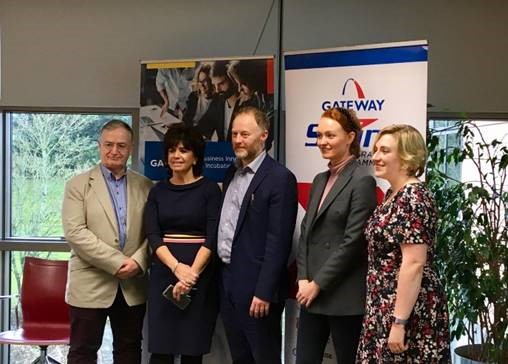 GatewayUCC Seminar Series latest event on 'Building a Board', organised by Myriam Cronin and supported by Atlantic Bridge and Enterprise Ireland
The latest event in the GatewayUCC Seminar Series focused on the topic 'Building a Board' and was attended by over 40 founders, researchers and university staff, with strong representation of Atlantic Bridge from Alison Crawford, Eimear Gleeson and Dougal Adamson.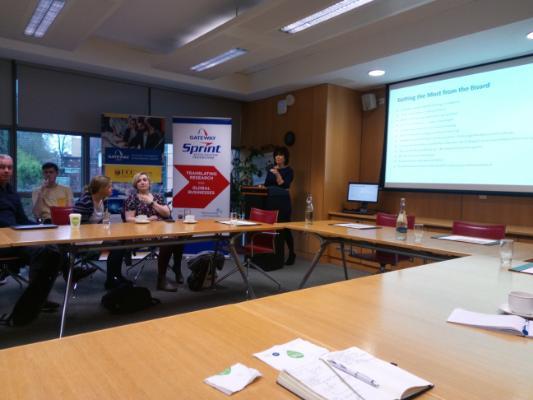 The event covered the role of Directorships, funding and other supports available to spin-out companies at University College Cork, Cork Institute of Technology and the Tyndall Institute.
The seminar kicked off with a presentation from Alison Crawford, Senior Associate at Atlantic Bridge, who shared some practical advice for constructing and optimising the performance of a Board of Directors and how strategic directors can advance the scaling of your IP based business.
Alison's session was followed by an overview presentation of the Enterprise Ireland Commercialisation Fund, led by Zara Lonergan pitched at researchers who would like to take their projects outputs to the market.
The event closed with a panel discussion on the topics presented. The panel, moderated by Myriam Cronin, Manager GatewayUCC, included Charles Garvey (CEO, Metabolomic Diagnostics), Dr Fiona Edwards Murphy (CEO, Apis Protect), Kevin Burke (Senior Commercialisation Specialist, Enterprise Ireland) and Alison Crawford.
After the seminar Atlantic Bridge held an open 'office hours' for UCC entrepreneurs. This included six one-to-one meetings with spin-outs operating in a wide range of industries, from Agtech to Medtech.
We received very positive feedback on the day and hope to return to GatewayUCC for more events in 2020.