News
News
Monograph published by Dr Declan Taggart, IRC Postdoctoral Research Fellow in the School of English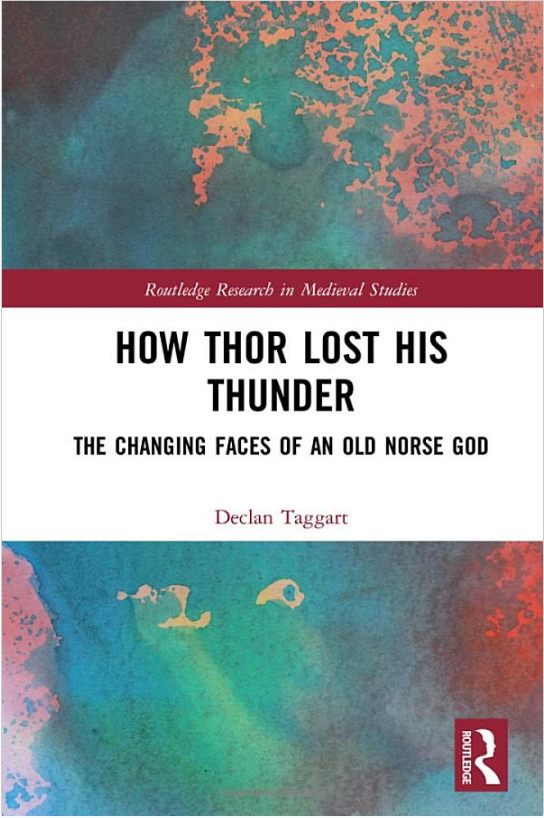 'How Thor Lost His Thunder: The Changing Faces of an Old Norse God' is published by Routledge.
Many congratulations to Declan Taggart, IRC Postdoctoral Research Fellow in the School of English, whose monograph 'How Thor Lost His Thunder: The Changing Faces of an Old Norse God' has just been published by Routledge.
How Thor Lost his Thunder is the first major English-language study of early medieval evidence for the Old Norse god, Thor. In this book, the most common modern representations of Thor are examined, such as images of him wreathed in lightning, and battling against monsters and giants. The origins of these images within Iron Age and early medieval evidence are then uncovered and investigated. In doing so, the common cultural history of Thor's cult and mythology is explored and some of his lesser known traits are revealed, including a possible connection to earthquakes and volcanic eruptions in Iceland.
This geographically and chronologically far-reaching study considers the earliest sources in which Thor appears, including in evidence from the Viking colonies of the British Isles and in Scandinavian folklore. Through tracing the changes and variety that has occurred in Old Norse mythology over time, this book provokes a questioning of the fundamental popular and scholarly beliefs about Thor for the first time since the Victorian era, including whether he really was a thunder god and whether worshippers truly believed they would encounter him in the afterlife.
Considering evidence from across northern Europe, How Thor Lost his Thunder challenges modern scholarship's understanding of the god and of the northern pantheon as a whole and is ideal for scholars and students of mythology, and the history and religion of medieval Scandinavia.