What we do
What we do
About Us
As a UCC Department for Wellbeing and Health, the Chaplaincy is an inclusive service that offers a space for community, conversation, support, guidance, and enrichment for all students and staff at UCC. We support all UCC students and staff, regardless of gender, age, ethnicity, disability, family status, sexual orientation, marital status, religious/non-religious background, or spirituality.
We are delighted to welcome all in the UCC family to our vibrant and warm community to meet new friends, unwind between classes, and just be yourself.
Student Support Services
The Chaplaincy is featured below on the student support tree. The "Acorn to Mighty Oak" has come to symbolise students' academic, personal and professional development journey throughout their time at UCC. In alignment with this rich metaphor, the support services available to students are presented in the form of a Support Tree.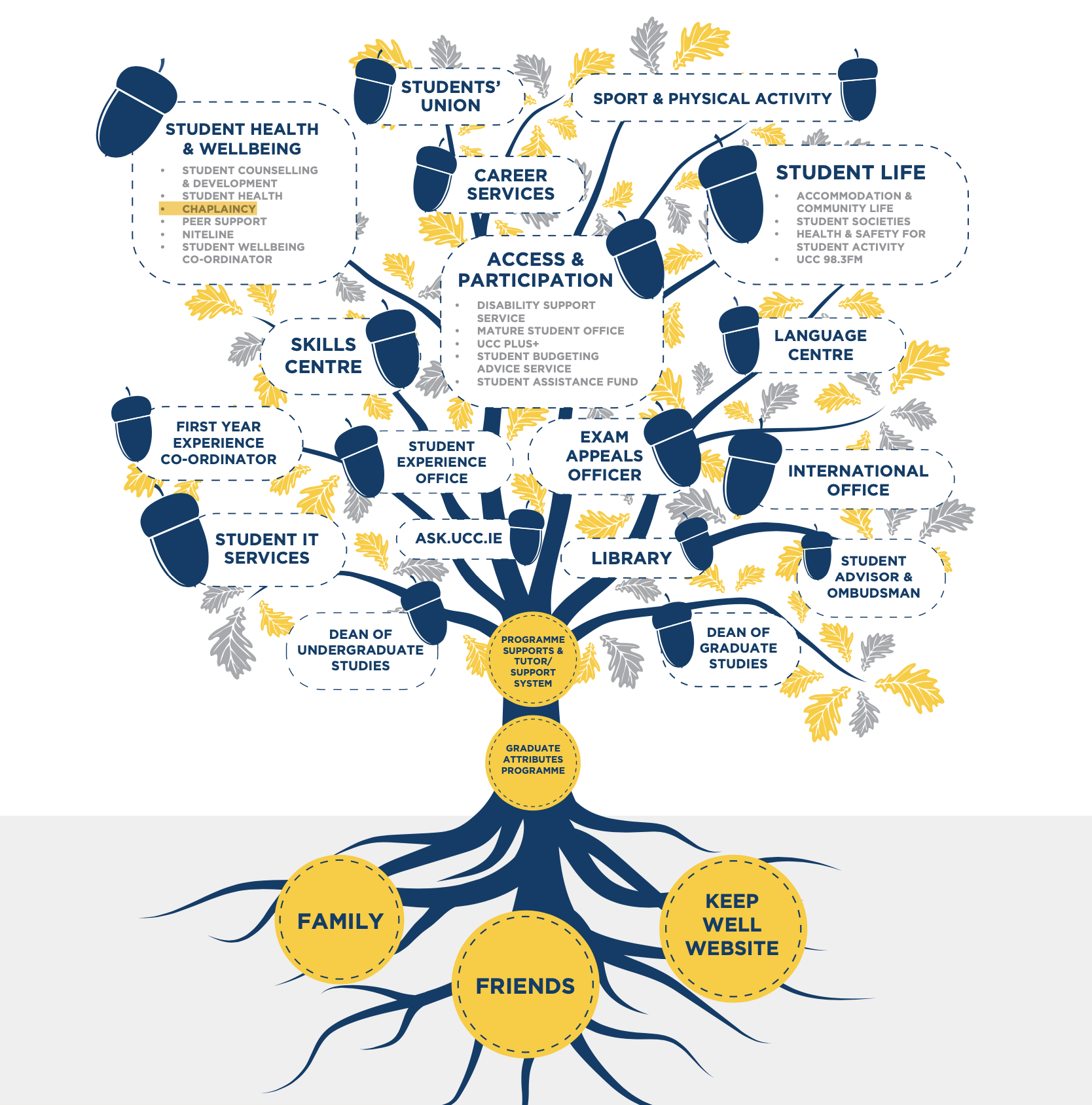 Keep Well Website
The Chaplaincy has contributed to the Keep Well Website, an excellent resource with information on how to care for your mental, physical, spiritual and social wellbeing in this difficult time. It also contains information about upcoming events, available tools & resources and a contacts page, so you can find the supports you need.
Chaplain Chats
Our offices are currently closed, but you can contact the Chaplains for a chat at any time by emailing chaplaincy@ucc.ie
Chaplains are also online every Tuesday and Thursday from 12-1pm for open chats on zoom.
Events and Activities
The Chaplaincy organise a number of different events and activities through out the year. Our upcoming events are listed in the what's on section.
The Hearth
*Due to COVID restrictions, the Hearth is currently closed*
Located on the ground floor of the Chaplaincy Centre, the Hearth, our kitchen and student lounge, is a great place to relax. Free tea and coffee are provided when coming to and using the space to meet with others or relax.
Open Hours
During the school year, the Chaplaincy is open Monday through Friday, from 8:00 am to 5:00 pm, unless indicated otherwise.
Multi-Faith Prayer & Mediation Room
*Due to COVID restrictions, the Prayer Room is currently closed*
Located on the top floor of the Chaplaincy Centre, our Multi-Faith Prayer & Meditation Room is a quiet space for reflection, meditation, and/or prayer. The space is available for individual or group use. Any UCC student and staff member may utilize this space, whether of a faith tradition or not.
To Book:
If you would like to reserve the room, please contact Ber Twomey by email: ber.twomey@ucc.ie