News
News
What does it take to develop a truly hybrid recruitment strategy?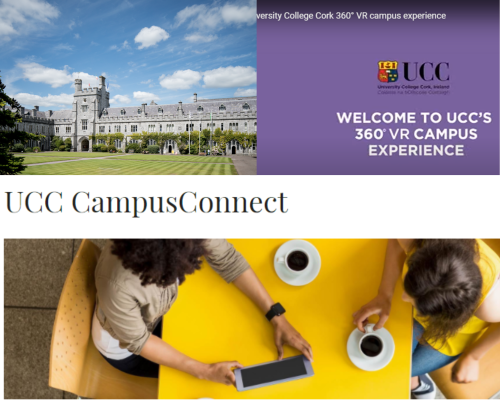 Maggie Cardosi, UCC's North American Representative based in New York, shares her experience of remote working.
Undeterred by the prospect of starting a new job during a global pandemic, Maggie Cardosi joined the UCC Academy team in March 2020 to support UCC's International Office.
Leaning on her experience of representing UCD in North America for over six years, Maggie threw herself into the role as she sought to promote University College Cork throughout the United States and Canada to act as a key contact for the University.
This past year has been unlike any other that I've experienced as an international representitive.

I definitely didn't expect to be in this role for over a year without visiting Cork or meeting my new colleagues in person.

Overcoming screen fatigue was a huge challenge, which sometimes made it difficult to forge meaningful connections with prospective students.

That said, I do feel that pivoting to virtual recruitment has presented opportunities that I hope we continue to pursue in the post-pandemic world.
Working across numerous digital platforms, Maggie was able to engage with a wider number of students and to participate in events that she might have otherwise overlooked.
As such, Maggie developed hybrid recruitment strategies to help her promote UCC programmes across North America for much of the last 12 months.
Folks over here are very interested in Ireland and are eager to travel once things open up.

While I very much look forward to a return to in-person interactions, virtual events have allowed me to connect with students all over North America, regardless of geographic location.

Going forward, I'm excited to work with the International Office to develop a truly hybrid recruitment strategy that utilises digital resources like the 360 Campus Experience and Campus Connect in conjunction with in-person events and social media.
Despite not being able to connect with her campus colleagues at in-person events, Maggie has put a lot of time into learning about UCC's thriving community of students, researchers, and innovators.
The knowledge that she has acquired, along with anecdotes about the University and its campus, have increased Maggie's determination to visit UCC at the earliest opportunity.
I can't wait to be able to make the trip back to Ireland and begin the next phase of my journey at UCC and UCC Academy.

I'm also very grateful for the time I've had over the past year to learn about UCC and the vibrant network of people who make up the community there.

What I've experienced over the last year makes me very optimistic about UCC's future in the North American market.