News
News
Community of Project Managers: Why Comms is key to project management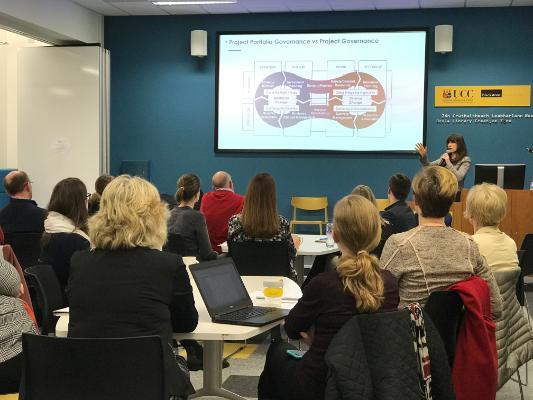 UCC Academy's most recent Community of Project Managers event saw Eoin Hahessy, Head of Media and PR at UCC, Michael Tobin from the University's Audio Visual Media Services unit, and Judie Russell, Communications Project Manager with UCC Academy, discuss the importance of communications in a socially distant world.
Themed "Rethinking Communications", this Community of Project Managers event built on the success of over a dozen previous forums, exploring subjects such as change management, lean practices, and the Prosci Adkar model.
"The Community of Project Managers events are an opportunity for all project managers at UCC to gather and share ideas, tips and experiences, and this is more important than ever today," says Sinead Harding, Head of UCC Project Centre.
Hosted on Conference UCC's events management platform – OnAir – which provides flexibility to conference organisers to stage virtual, hybrid or blended events on any device, a number of UCC's communications experts openly shared how they adjusted their ways of working in light of the COVID-19 lockdown.
Moderated by Nicola Stathers, Communication Project Manager with UCC Academy, each of the speakers described how they rapidly reached for technological solutions to communicate with staff, colleagues and students.
Leaning on his experience of working in the University of Melbourne, Eoin Hahessy also touched on the importance of internal messaging and the incremental growth of UCC's new internal communications platform – Workvivo.
Available to all staff, Workvivo not only allowed Eoin and his team to keep staff up to date in a rapidly changing environment, but it also began to replicate the sense of community and vibrancy witnessed on campus.
Speaking from a technical perspective, Michael Tobin spoke about the digital communications tools available to staff, as well as touching on how the UCC community have embraced the functionality of Microsoft Teams.
Leaning on her experience as founder of The Vidacademy, Judie Russell closed out the panel discussion by sharing some practical tips and advice on gaining confidence on camera.
UCC's Community of Project Managers (CoPM) was established with the aim of promoting collaboration and excellence through shared learnings in project management at UCC. The CoPM is run in conjunction with UCC Academy Project Centre and is supported by the Office of the Bursar and UMTO. The Community is open to all project management practitioners in UCC and people working on projects across UCC. To join or find out more, please contact: copm@ucc.ie.