IRIU News
IRIU News
The Review Signpost 3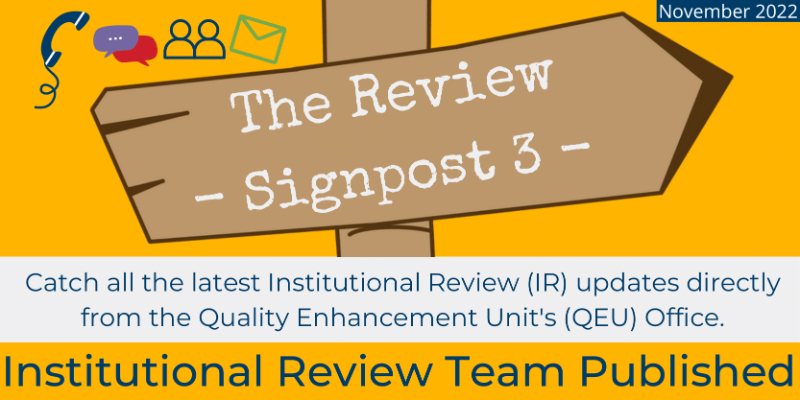 Check out the latest updates on the UCC Institional Review.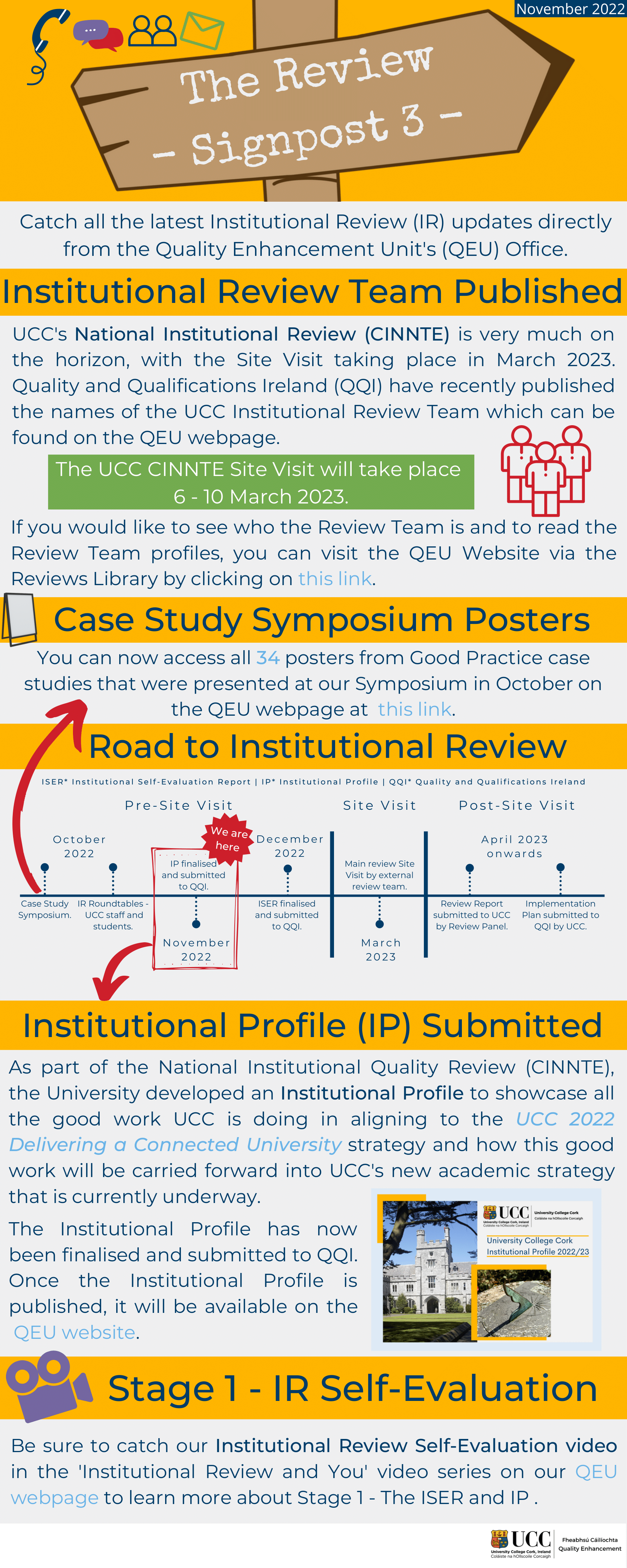 Quality Enhancement Unit
The Review Signpost 3
Catch all the latest Institutional Review (IR) updates directly from the Quality Enhancement Unit's (QEU) Office.
Institutional Review Team Published
UCC's National Institutional Review (CINNTE) is very much on the horizon, with the Site Visit taking place in March 2023. Quality and Qualifications Ireland (QQI) have recently published the names of the UCC Institutional Review Team which can be found on the QEU webpage.
The UCC CINNTE Site Visit will take place 6 - 10 March 2023.
If you would like to see who the Review Team is and to read the Review Team profiles, you can visit the QQI Website via the Reviews Library by clicking here.
Case Study Symposium Posters
You can now access all 34 posters from Good Practice case studies that were presented at our Symposium in October on the QEU webpage by clicking here.
Road to Institutional Review
Abbreviations:
ISER – Institutional Self-Evaluation Report
IP – Institutional Profile
QQI – Quality and Qualifications Ireland
Pre-Site Visit
October 2022
Case Study Symposium.
IR Roundtables - Consultation with UCC staff and students.
December 2022
ISER and IP finalised and submitted to QQI (We are here).
Site Visit
March 2023
Main review Site Visit by external review group / panel.
Post-Site Visit
April 2023 onwards
Review Report submitted to UCC by Review Panel.
Implementation Plan submitted to QQI by UCC.
For a more detailed timeline of the Road to Institutional Review, visit the QEU webpage.
Institutional Profile (IP) Finalised
As part of the National Institutional Quality Review (CINNTE), the University developed an Institutional Profile to showcase all the good work UCC is doing in aligning to the UCC 2022 Delivering a Connected University strategy and how this good work will be carried forward into UCC's new academic strategy that is currently underway.
The Institutional Profile has now been finalised and will be submitted to QQI within the next week. The Institutional Profile will be available on the QEU website in due course.
Stage 1 – IR Self-Evaluation
Be sure to catch our Institutional Review Self-Evaluation video in the 'Institutional Review and You' video series on our QEU webpage to learn more about Stage 1 – The ISER and IP.