News & Events
News & Events
December Postgraduate Research Seminar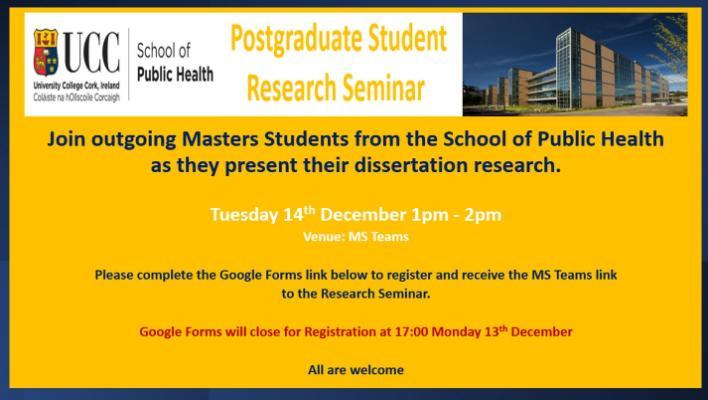 Join outgoing Masters Students from the School of Public Health as they present their dissertation research.
Tuesday 14th December 1pm - 2pm
Venue: MS Teams
Please complete the Google Forms link HERE to register and receive the MS Teams link to the Research Seminar.
Google Forms will close for Registration at 17:00 Monday 13th December.
All are welcome.
Nicola Ryan - MPH Online - Sex and Gender Based Equity in Clinical Trials for Acute Coronary Syndrome: Are Women Adequately Represented, A Systematic Review
Yousef O'Donnell - MPH Campus - Hospitalisation, Morbidity and Mortality due to Respiratory Tract Infections Among Adults with Intellectual Disabilities in Long-Term Care Facilities: A Systematic Review
Pawel Hursztyn - MPH Campus - Trends of Hospital Presenting Self-Harm in Cork City: Area and Individual Level Factors
Declan Moran - MPH Campus - Estimating the Direct Disability Adjusted Life Years (DALYs) Associated with SARS-CoV-2 (COVID-19) in the Republic of Ireland: The First Full Year
Ayisha Lightbourne - MPH Campus - Living with Chronic Illness: A Qualitative Exploration of Women's Perceptions and Experiences of Diagnosis, Supports and Treatment Options in Managing Endometriosis