2017 Press Releases
2017 Press Releases
Portrait of UCC President Dr Michael Murphy unveiled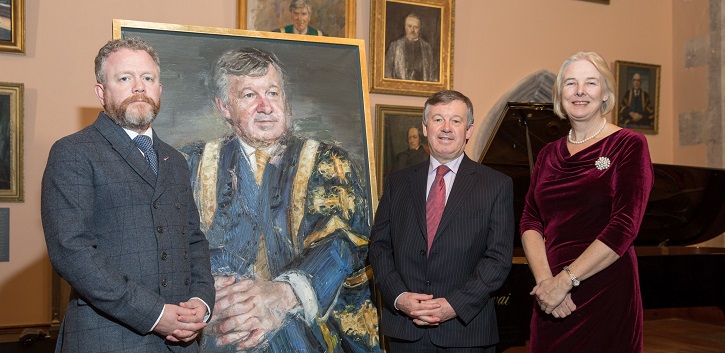 A portrait of the outgoing UCC President Dr Michael Murphy by the contemporary artist Colin Davidson has been unveiled today (January 20) by Dr Catherine Day, Chair of the Governing Body, UCC.
Belfast-based artist Colin Davidson, who graduated from the University of Ulster in 1991 with a first-class honours degree, has focused on painting large-scale portraits since 2010. Davidson has painted many significant public figures including politicians, artists, actors and musicians, and won widespread recognition and many international awards. His portrait sitters have included Brad Pitt, Ed Sheeran, Liam Neeson, Brian Friel, Sir Kenneth Branagh, Dame Mary Peters, Gary Lightbody, Marketa Irglova, Glen Hansard, Mark Knopfler and Seamus Heaney.
Most recently, Davidson was invited to paint an official portrait of HM Queen Elizabeth II, which was unveiled by the monarch in November 2016. In December 2015 he was commissioned by TIME Magazine to paint the German Chancellor, Angela Merkel, for the cover for its Person of the Year issue.
Dr Michael Murphy became President of UCC in February 2007 and his portrait was commissioned by the University's Governing Body on the occasion of his completion of his term of office as President. Davidson's painting of Dr Murphy will hang with the other portraits of UCC's successive presidents, from Sir Robert Kane (1845-1873) onwards, on the west wall of the Aula Maxima.
Dr Catherine Day, Chair of the Governing Body, UCC, commented: "UCC owes a great debt of gratitude to Dr Murphy. He has led the University with vision and courage during a very difficult period. He set a high level of ambition in educational standards and was deeply committed to student well-being."
Dr Day commented that under Dr Murphy's leadership, UCC was named The Sunday Times University of the Year three times, and in 2016 UCC became the first University to receive the title for two consecutive years in the 15-year history of the award.
"He led and successfully completed the merger of UCC and the Irish Management Institute and delivered several large building projects including the completion of the Western Gateway Building, which significantly expanded the facilities of the University. I am delighted that his portrait will now hang alongside those of his illustrious predecessors. I'm sure that as he joins them on this 'wall of fame' they would say: 'Well done, Michael, you have done UCC proud'," she said.
Congratulating the artist, Dr Day added that "Colin Davidson has produced a thoughtful and sensitive portrait of Dr Murphy. We are delighted and honoured to include Colin's work in the collection of Presidential Portraits. It is important to keep the tradition of commissioning a portrait alive whilst at the same time contributing to the University's art Collection."
The University formally established the practice of commissioning a portrait of the University President upon completion of his/her term of office in 1949, as part of the celebrations marking the centenary of the opening of Queen's College Cork in 1849. Because of the importance of the office of president, UCC's Presidential Portrait Collection comprises a compendium of college history.
The 13 portraits in the collection feature the work of leading Irish portrait painters including John B. Yeats, James Sleator, Edward Maguire, Derek Hill and Basil Blackshaw, each conveying a sense of the sitter's character and contemporary art practices and methods.
A graduate of UCC (MB 1976), Dr Murphy was appointed Professor of Clinical Pharmacology and Head of the Department of Pharmacology and Therapeutics at UCC in 1992, before taking on the role of Dean of the Faculty of Medicine and Health in 2000 and becoming Head of the College of Medicine and Health in 2006.
During this period, he managed a programme of expansion and diversification, increasing the number of professional degree programmes from two (Medicine and Dentistry) to six (Nursing, Pharmacy, Speech Therapy and Occupational therapy), which now provides education, training and research opportunities for almost 3000 students.