2014 Press Releases
2014 Press Releases
Wind turbine makes waves for EOY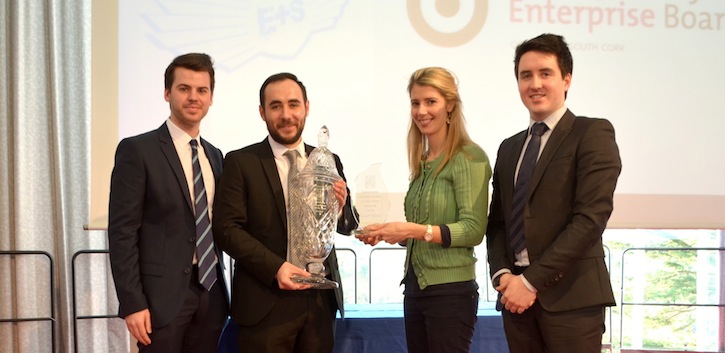 A portable wind turbine generator that will see energy costs plummet aboard commercial marine vessels has sailed away with 1st prize at the UCC Entrepreneur of the Year Awards.
Technology that gives amputated limbs a fighting chance and a seemingly unavoidable marketing app that utilises high frequency sound were among the other concepts recognised for their global potential.
Darren Hayes from Cork City, who is studying the MSc Marine Renewable Energy at UCC, was behind 'Mari-Turb' which offers an alternative to burning diesel using conventional generators. The wind turbine is lifted into the wind stream using the existing articulated cranes on board such vessels (HIABS) and is then able to harnesses the power of the freely available wind, reducing operating costs and emissions by decreasing diesel consumption.
Several other awards were given out at the ceremony, which is coordinated and sponsored by the UCC Entrepreneurial and Social Society (E&S) and the College of Business and Law, UCC with key additional sponsors including Bank of Ireland, Accenture, the Cork City & County Enterprise Boards and Enterprise Ireland.
Best Technology went to 'AmputAid' which keeps amputated limbs cool at the required temperature for 24+ hours for transportation and protection. That project was led by engineering and medical students Ronan O'Brien, Mobin Jamal, Ben Thistlewood, Tadhg Lambe and Ronan Hand.
The Dynamic & Emerging Award went to 'Sonic Marketing', whose marketing app may just prove the old saying - 'those who shout loudest are heard' - true. Led by Steven Merrick, Ian Kerins, Kenneth O'Mahony and Robert McCarthy, all postgraduate students in Innovation & Entrepreneurship at UCC, the app utilises high frequency sound technology to deliver personalised content to customers in-store.
Several merit awards were also awarded. Food product 'Kudos' lived up to its name, with Christopher Hosford, John McCarthy, Catherine Murphy, Lisa McEvoy and Haoran Xing, who study Food Science, Food Marketing and Entrepreneurship at UCC, recognised for their halloumi cheese product made with Buffalo milk. 'BRaSS' (Building Retrofit Support Software) led by Sean Murray, a PhD Engineering student, also received a merit award.
In presenting the outright award to 'Mari-Turb', Graham Healy, Senior Partner Accenture Ireland, complimented the award winner, who "developed an innovative solution to a significant energy problem in the commercial marine industry."
Professor Ursula Kilkelly, Head of College of Business and Law, UCC, in opening the Award ceremony welcomed "the big, high quality entry and congratulated all the student teams who excelled in the professionalism of their plans and the execution of their presentations. The College of Business and Law recognises that University-wide and accessible entrepreneurship education is a key ingredient for an entrepreneurial University and the College of Business and Law is committed to playing its role in delivering this mandate."
Aidan Murphy, Education Officer of the UCC Entrepreneurial and Social Society, also recognised the help that the society received from Dr Brian O'Flaherty, BIS, UCC.
Marcelle McAuliffe, Manager of Bank of Ireland, UCC branch, a member of the adjudication panel, complimented the "diversity of business opportunities, many of which have the potential to develop into global companies." Mary Byrne (CEO, Statistical Solutions) also served on the assessment panel.
The student focused Entrepreneur of the Year Awards are just one of several recent events driven by UCC's determination to provide opportunities for Ireland's entrepreneurs of the future (Click here for more). Still to come are the Transition Year Business Project Awards on April 9th. UCC hosts these awards in honour of BNY Mellon sponsored Transition Year Business Projects for secondary schools.