2014 Press Releases
2014 Press Releases
Keane to inspire at UCC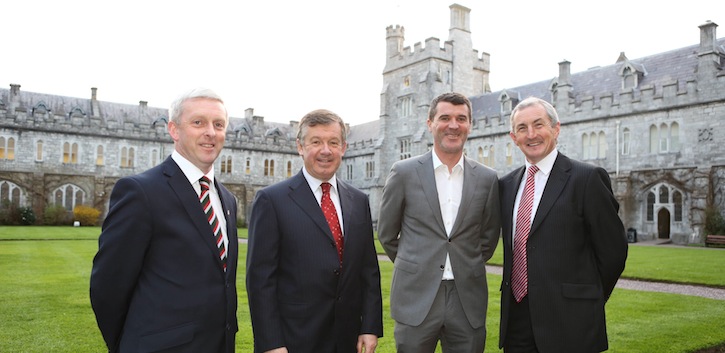 Roy Keane visited UCC this week as Cork City Football Club (CCFC) unveiled a new patronage scheme in the Aula Maxima, to support the club's underage Education and Development Fund.
(See UCC's Storify for a colourful curation of all local, national and international coverage, as well as a taste of social media, videos and images from the night here: https://storify.com/UCC_Ireland/keano-launches-cork-city-fc-scheme)
The Fund's objective is to assist in educating and developing the very best footballing talent on Leeside, and will be supported on an ongoing basis by benefactors through the Cork City FC Patronage Scheme.
RTÉ Sport's Tony O'Donoghue acted as MC with UCC President Dr. Michael Murphy and Guest Speaker, Eddie Murphy, Managing Director of Ford Ireland, in attendance along with Special Guest and Republic of Ireland assistant manager, Roy Keane, as well as a host of dignitaries and members of the Cork business community.
Roy Keane speaks at the CCFC Patronage Scheme launch in UCC (video courtesy of RebelArmyTV)
"Though we've been working on the Education & Development Fund with the support of UCC for almost six months now, it's seems entirely appropriate that we launch the Cork City FC Patronage Scheme just days after the club's latest underage triumph," club CEO Tim Murphy said.
"Ensuring our players have access to third level education is a key priority for Cork City FC and its owners, the members of FORAS. The Patrons Scheme will allow us provide such opportunities to our underage players in addition to the best coaching possible and a clear pathway to senior football. I would also like to thank Pain Medicine Cork, who are sponsoring the scheme, and Dr. John Browne for their support."
Patrons can select one of three tiers of membership and, based on the initial fee, will enjoy a variety of benefits including VIP season tickets and reserved seating for up to four colleagues, family and friends, Family membership to UCC's Mardyke facility, a collection of Patrons' memorabilia including a unique brass plaque on the Patron's stairwell and public acknowledgement of their contribution.
UCC President Dr. Michael Murphy underscored the value of sport to UCC and the community, remarking that it was UCC students who were at the heart of UCC's 60+ clubs, a remarkable number. "With UCC's commitment to giving back to the community and in developing sport as part of the overall student experience in UCC in mind, I am delighted that we can again step up to support Cork City Football Club as it launches its patronage scheme."
"By searching for a '12th man' to join the club in spirit on the pitch, the scheme will help one of Ireland's leading soccer strongholds continue to inspire the next generation of young persons. As is the case with UCC, the club's true strength lies in the wider community that supports it. The continued competitive success of Cork City FC must surely follow, but the embracing of sport as a conduit for personal development and for building a sense of belonging and pride are equally as important, and proudly supported by UCC today."
Dr. Roy Keane was warmly welcomed back to UCC by President Murphy. Roy received an honorary Doctor of Laws in 2002 from UCC, in recognition of not only his sporting talent, but also the inspiration he provided to so many, as well as his charitable work.