2014 Press Releases
2014 Press Releases
U.S. Ambassador to Ireland to visit UCC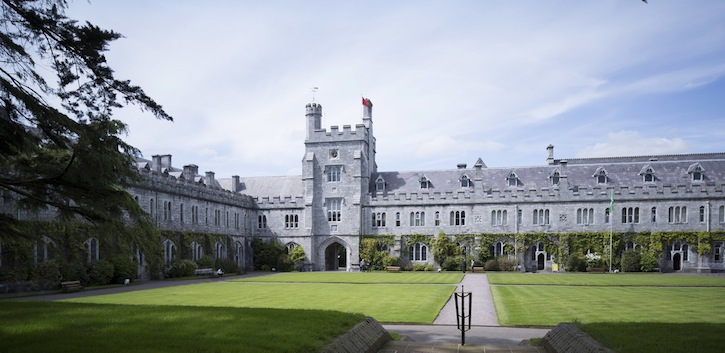 U.S. Ambassador to Ireland Kevin F. O'Malley will make his first official visit to Cork and UCC tomorrow during which he will give a speech called 'Building for a Legal Career that matters'.
The event, which takes place in Boole 1 Lecture Theatre at noon on Wednesday 12 November, is organised by UCC's School of Law. A Q&A will follow for the 250 2nd and 3rd year Law students in attendance, moderated by Dean of Law, Professor Ursula Kilkelly.
Professor Kilkelly commented: "It is an honour for our law students to hear from Ambassador O'Malley, as Ambassador, as a distinguished lawyer and as a graduate of our International partner Saint Louis University School of Law. We know that this visit will strengthen the positive relationship between our respective law schools as well as between Ireland and the US more generally."
The Ambassador will then meet invited guests and alumni, including Saint Louis University alumni and Fulbright alumni at the Glucksman Gallery (the Fulbright Commission of Ireland annually awards grants to Irish and E.U. postgraduate students, scholars, and professionals to study, research, and lecture in the United States and for Americans to do the same in Ireland).
The Ambassador will later tour the National Maritime College of Ireland (NMCI) and the Irish Maritime Energy Resource Cluster (IMERC) in Ringaskiddy, having already met the Lord Mayor of Cork, Cllr Mary Shields, at City Hall earlier that morning.
Conor Mowlds, Head of the NMCI, said: "We are delighted to welcome the US Ambassador to the National Maritime College of Ireland, particularly at a time when our links with the United States, through significant investment in our facility by the US oil major Chevron, has created Irish jobs and put the NMCI firmly on the world stage."
--
Media wishing to accredit to cover this event must first contact:
John B. Murphy, Press Specialist, U.S. Embassy on murphyjb@state.gov or Tom McCarthy, Media & Public Relations Officer, University College Cork on media@ucc.ie
Biography of Kevin F. O'Malley, U.S. Ambassador to Ireland
Kevin F. O'Malley was sworn in as U.S. Ambassador to Ireland on September 30, 2014 and presented his credentials to President Michael D. Higgins on October 8, 2014.
Ambassador O'Malley, an attorney, was a partner at Greensfelder, Hemker & Gale, P.C., in St. Louis, Missouri whose trial skills have earned him Fellowship in the American College of Trial Lawyers. Ambassador O'Malley has been an adjunct professor both at Washington University School of Law and St. Louis University School of Law. He is a nationally recognised author of a treatise on jury instructions that is used in federal jury trials throughout the United States.
Ambassador O'Malley is known as a talented leader, expert manager, and forthright public speaker and he has been consistently chosen by the editors of The Best Lawyers in America for his work in medical negligence defence and white collar criminal defences. Based on a career that has emphasized collegiality and common sense in litigation, he recently received the Award of Honor of the Lawyers Association of St. Louis, a recognition by plaintiffs and defendants attorneys of his abilities to resolve conflicts in a courteous and professional manner.
Before entering private practice Ambassador O'Malley was an Assistant United States Attorney in St. Louis, Missouri and a Special Attorney of the Organized Crime Section of the United States Department of Justice in Washington, D.C., Los Angeles, California and Phoenix, Arizona. During his tenure as a federal prosecutor he received the Distinguished Service Award from the United States Attorney General. He was a legal instructor for the Central and Eastern European Law Initiative (ABA/CEELI) in both Moscow and Warsaw. In 2009 Ambassador O'Malley was appointed by Missouri Governor Jay Nixon to be the only non-physician on the Missouri Board of Registration for the Healing Arts, the medical licensing and disciplinary authority in the state. The physicians subsequently elected him as Board President. He also served as an officer in the United States Army Reserve.
Ambassador O'Malley earned an A.B. in 1970 and J.D. in 1973 at Saint Louis University where he served on the editorial board of its law journal.
Ambassador O'Malley has strong Irish roots. Both of his parents were Irish and his paternal grandparents emigrated from Westport in County Mayo approximately one hundred years ago. He held dual citizenship with Ireland and the United States until the confirmation process for this position. Ambassador O'Malley came to Ireland with his wife, Dena. They have two sons, Brendan and Ryan.