2014 Press Releases
2014 Press Releases
@UCC battles astronaut and sport star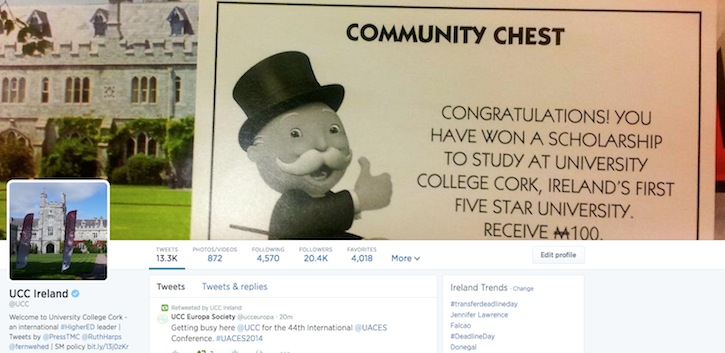 The UCC Twitter account, @UCC, has been nominated in the #TweetieInspire category at the upcoming awards, the #RaboTweeties, with voting still underway for the final shortlist.
The #RaboTweeties aim to celebrate the very best of Twitter and the people and specialists who use it.
In the #TweetieInspire category @UCC is up against:
Nominations: in #TweetieInspire we have: @UCC @BUMBLEance @FMRSI @Tweetinggoddess @wexfordmammys @brianodriscoll @MummyPages

— RaboDirect Tweeties (@RaboTweeties) November 10, 2014
To vote for UCC, simply tweet the following from your Twitter account as already demonstrated by the dozens of generous staff, students, alumni and friends of UCC:
#RaboTweeties @UCC #TweetieInspire
Or you can simply re-tweet the following:
We're asking all of you to support us in #TweetieInspire @RaboTweeties @ucc. We'd so appreciate a RT. Thanks.

— UCC Ireland (@UCC) November 12, 2014
The category rewards artists, entrepreneurs, causes, companies, educational establishments, schools, colleges, services or individuals that inspire their followers on Twitter, leading to greater engagement.
UCC's Twitter account is currently just shy of 23,000 followers.
UCC social media was recently nominated at the inaugural Cork Digital Marketing Awards
Earlier this year UCC was declared a top university by Tripadvisor and Flipkey. It also won a Social Media Award for best social media engagement in June 2014, having also recently been nominated at the Eircom Spider Awards (2013).
UCC was also recently praised by The University Times, the student newspaper of Trinity College Dublin. The newspaper remarked: "UCC's helpfulness and responsivity is key to its success and shows students that, should they come to study, social media is a place where they can communicate with their university. @UCC is the Twitter account of a university that wants to help you." (See 'UCC Lead in Social Media, as Trinity Lags Behind').