2014 Press Releases
2014 Press Releases
UCC Teaching Heroes recognised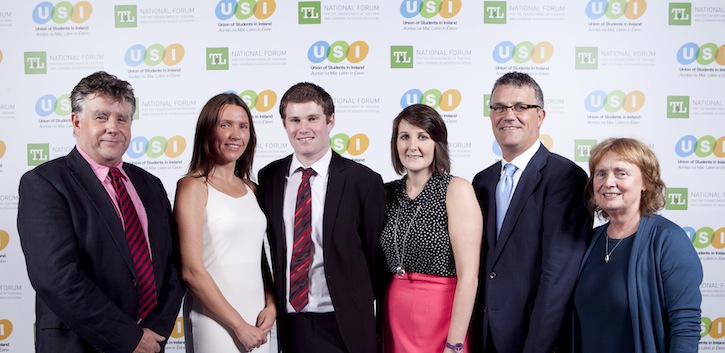 Two UCC academics have been named 'Teaching Heroes', receiving national recognition for their efforts and impact at a recent award ceremony at Dublin Castle.
Dr Kieran Keohane, Department of Sociology and Dr Eileen O'Leary, Department of Chemistry, were named as Teaching Heroes as part of a national student-led awards scheme. A total of 53 Teaching Heroes from 27 higher education institutions throughout Ireland were recognised at the ceremony.
The National Teaching Hero Awards were established by the National Forum for the Enhancement of Teaching and Learning in Higher Education in partnership with the Union of Students in Ireland (USI) and other student bodies to recognise and celebrate students' experiences of great teaching throughout all higher education institutions. The Teaching Heroes were nominated locally by students and a local student working group whittled down the entries to identify two teaching heroes from within their institution. The identification process used in each institution was informed by guidelines that focused on merit and learning impact.
Speaking at the ceremony, Professor Sarah Moore, chair of the National Forum, said, "These awards aim to shed more light on the kinds of teaching that students say they value most … and will give rise to important conversations about students own perspectives on their learning."
The awards were presented by the National Forum's patron, Professor Mary McAleese. She highlighted the vital role of teachers in her speech. "Excellence in teaching is about much more than simply getting students through their exams. It is about inspiration, passion, generosity of spirit, and a genuine desire to make a positive difference to students' lives."
'You will not just inspire students, but you will inspire fellow teachers' - Prof. Mary McAleese #TeachingHero #heie

— National Forum (@ForumTL) September 30, 2014
When describing the awards initiative, Professor Moore explained that its focus was on teachers with a "transformative impact at a key transitional phase in education" such as moving from secondary to third-level, or from degree to postgraduate level.
This student-led awards initiative builds on the previous National Awards for Excellence in Teaching and Learning which ran from 2008-2012 and highlights a national commitment to recognising and rewarding teaching excellence.
Read the Irish Times article covering the event or click here to see the full list of 2014 Teaching Heroes.
Dr Kieran Keohane & Dr Eileen O'Leary At Teaching Hero Awards, Dublin Castle. Congratulations Ian & Leigh Anne UCCSU pic.twitter.com/8noafsCroz

— johalloran (@johbees) September 30, 2014
Thrilled for @UCC colleagues Eileen O'Leary & Kieran Keohane who were presented with a #teachingheroes award last night. Any pix @ForumTL?

— Ionad Bairre (@ionadbairre) October 1, 2014