2014 Press Releases
2014 Press Releases
UCC social media giving it socks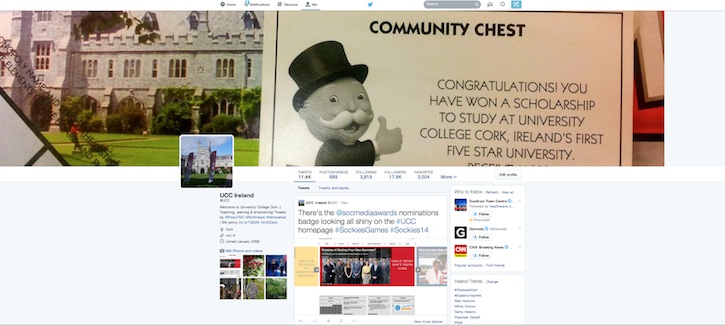 UCC has been nominated in four categories at the Social Media Awards, or the 'Sockies' as they are more affectionately known, an annual event that seeks to reward best social media practice.
UCC's Digital Estate Working Group (DEWG), tasked with mapping out the digital future of the university, is nominated under the following categories:
Best Facebook page for non-profit/organisation

Social media effectiveness

Use of social media by a State Body

Video campaign - The entry, 'UCC in 20 seconds', covers the crucial aspect of outreach to the wider community, drawing on the colourful presentation skills of UCC's Dr Declan Kennedy and his magic show, as part of the UCCPLUS+ programme. The video was created by Stephen Bean, Audio Visual Media Services (AVMS) cameraman.
UCC is up against a number of national competitors, including Dublin Bus, Fota Wildlife Park, Cadbury, Tesco, AIB, IDA Ireland, An Garda Síochána and the Irish Defence Forces amongst others.
UCC's Media and Public Relations Officer Tom McCarthy said, "We are delighted to be nominated two years in a row, and to be in such good company. These nominations result from the efforts of a large team across UCC who go the extra mile to utilise social media. We see social media as a digital extension of UCC, a globally accessible shop window through which many can peer – we don't want our guests to be greeted by a corporate entity when they step through the looking glass. We seek to engage with our diverse audience in meaningful and creative ways, and whenever possible, in a fun manner."
Separately, UCC's International Education Office is nominated under the 'Social Media Only Campaign' category, as well as Rewrite Science, a national organisation for young Science, Technology, Engineering and Maths graduates, nominated in four other categories. The not-for-profit Irish startup, based in The Rubicon Centre, Bishopstown, Cork is chaired by UCC PhD graduate John O'Donoghue from Listowel, Co. Kerry, who previously appeared on Dragons' Den in 2012.
The next phase of judging, carried out by members of the public, will begin in the coming week(s), leading to a final shortlist ahead of the ceremony on June 5th at the Bord Gáis Energy Theatre in Dublin.
Some of UCC's efforts on social media over the last year include:
A dramatic increase in its Facebook presence, increasing from 11,096 likes to 20,685 since May 2013.

Particularly aimed at keeping existing and past students engaged, UCC's LinkedIn presence is lively. Since October 2013, group membership has grown from 9924 to 10,973 members, with 19 separate sub-groups around the world also active.
UCC's Twitter account (@UCC) increased from 10,844 followers to 17,900 since May 2013.
UCC now uses a range of tools to further its social media presence, such as TweetReach, the #UCCChasingIce climate change conference in January 2014 being a recent example.
UCC established two additional platforms, bringing its main social media presence to six (Facebook, Twitter, Youtube, LinkedIn, Storify and Tripadvisor). UCC's Storify platform (see example below) is home to many colourful stories, rounding up the best of online and social media coverage of UCC events and news. UCC now has a formal presence on Tripadvisor to respond to reviews directly. Since October 2013, UCC has climbed from 5th place out of 176 attractions in Cork and 170 reviews, to 3rd place out of 180 attractions and 196 reviews, retaining its 4.5 Star rating.
A UCC-wide social media mailing list was created, featuring the admins of dozens of UCC-affiliated social media accounts who share each other's content (see http://www.ucc.ie/en/connect/) (if you would like to sign up to this, please email media@ucc.ie).
Conscious of cyber-bullying in particular, UCC also launched a strong social media policy that is subject to regular review (and is used as necessary e.g. http://www.irishexaminer.com/ireland/facebook-u-turn-on-sexist-ucc-page-248613.html).

See http://socialmediaawards.com/ for more information on this year's Social Media Awards.
------