2014 Press Releases
2014 Press Releases
UCC Security staff rock to tune of €1200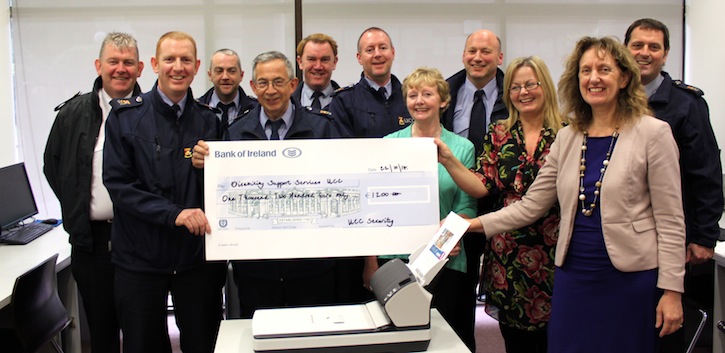 UCC Security staff have changed lives thanks to their extraordinary efforts, raising €1200 for the Disability Support Service (DSS) from the recent UCC Rocks youth gig held in July 2014.
The money has been used by the DSS at UCC to purchase a top-of-the-range scanner that is already transforming the lives of over 400 students registered with DSS who have a vision impairment or dyslexia.
The ultrafast built-in flatbed scanner enables students to access a variety of document types and the large volume hopper allows continuous feeding of up to 80 sheets at a time.
Once a document is scanned the student can save it in a variety of formats and use Assistive Technology to access the text. It can be read in different languages, meaning universal access for all.
One student who used the scanner marvelled at how fast his 30-page handout was scanned. Within five minutes, Robert was sitting at his desk listening to the scanned image of the handout using a screen reading software package.
Voiceworks Studio has also been praised. Having rocked the Quad at UCC during the concert, their amazing talents also extended to raising a substantial sum for the Children's Ward in the Mercy University Hospital.
Of course the UCC Rocks concert and funds raised could not have come about without the generosity of sponsors BAM Contractors, the Evening Echo, Cork's 96FM, AOS Design and the dedication and support of An Garda Síochána.
This feat is nothing unusual for UCC Security - it is the latest in a string of fundraisers for which they have selflessly sought zero recognition.
In December 2013, close to €2000 was raised for Abbey's Wish to Walk.
Spot anything familiar on front page of today's @irishexaminer? Go @Abbeyswish2walk & UCC Security Team! pic.twitter.com/kO9TISwxMF

— UCC Ireland (@UCC) December 13, 2013
They were also instrumental in ensuring the visit of BUMBLEance to campus - the world's first interactive ambulance for children - was a success in March 2014, raising much needed funds and awareness.
Look it's @BUMBLEance in today's @CorkEveningEcho #uccbuzz thanks for all the support! pic.twitter.com/xNVpVO2YGw

— UCC Ireland (@UCC) March 31, 2014
Back in August of this year, they took the Ice Bucket Challenge to a whole new level in aid of Irish Motor Neurone Disease (MND). The challenge had particular meaning for the team, as a colleague, Ted O'Leary, passed away from MND. The challenge was fittingly filmed in Ballincollig, Co. Cork, Ted's hometown. €500 was raised for the cause.
So the next time you run into UCC Security, feel free to give them a pat on the back.
Speaking of pat, UCC Office of Media & Public Relations would like to highlight the role of Pat Cotter behind the scenes, who is so often the main point of contact with the press office in many charity drives. He is not pictured in the main image but just like his colleagues, it is typical of him to avoid the limelight so as not to take away from the cause of the day.
Pat's next cause is to trip the light fantastic in the annual Strictly Come Dancing with the Stars event in partnership with Cope Foundation Arts Department on Saturday 1 November 2014 in Rochestown Park Hotel, Cork.
There'll be a host of notable names including celebrity solicitor Gerald Kean, who will oversee 10 couples competing for the crown. Tickets are €60 which includes the evening of entertainment as well as a meal. All money raised goes to Scoil Aislinn and An Tuath Nua.
For further information on tickets contact the Cope Foundation fundraising office on 021 464 3220 or click here.