2014 Press Releases
2014 Press Releases
Former President of Mexico at UCC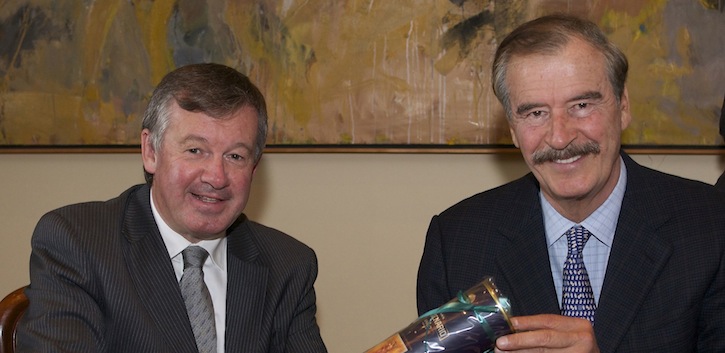 UCC welcomed former President of Mexico Vicente Fox Quesada earlier this month. He delivered a lecture entitled 'The emerging voice of leaders' to a large audience.
The audience included members of the business community in the Munster region, members of the Mexican community in Cork and UCC's Governing Body.
Following an introduction by President Murphy, Dr Fox outlined with great clarity and understanding some of the economic and social challenges facing Mexico and the wider region of Latin America. He was characteristically forthright on the issues of drug-trafficking and organised crime energetically arguing in favour of full legalisation as the only solution to cartel-led violence. He also spoke about the contribution of the Mexican community to the US economy and pointed to the need for further reforms in this area.
Listen to the podcast here via UCC98.3FM:
Former President of Mexico Vicente Fox Quesada, "The Voice of Emerging Leaders" by Ucc98.3fm on Mixcloud
There was a lively Q & A session following the lecture, moderated by Professor Nuala Finnegan, Chair of the Latin America Regional Working Group for UCC.
Vicente Fox was President of Mexico from 2000-2006 and his election as candidate for National Action Party (PAN) represented a major change in Mexico's political landscape. Indeed, for many it is a watershed moment in the history of Mexican democracy with the long-ruling Institutional Revolutionary Party (PRI) finally ousted from power after seventy years. On the night of Fox's election, Mexicans swarmed the Angel of Independence statue on Reforma Avenue, one of the city's main thoroughfares, celebrating their nation's overdue political achievement.
One of nine siblings, Fox is a native of the central state of Guanajuato and the grandson of immigrants from the United States and Spain. He studied business administration at the prestigious Iberoamerican University in Mexico City (Universidad Ibero-Americana). Working his way up from ranch hand and truck driver he started working for Coca-Cola in 1964, first as a delivery driver and ending up as the president of the company in Mexico becoming the youngest CEO in its history.
After leaving Coca-Cola, Fox established a successful business, directing a group of companies involved in agribusiness. He entered politics in the 1980s and in 1995 was elected governor of Guanajuato. Fox was deemed to have an unorthodox, informal style that proved very popular with the voting public. Elected as a political outsider, he sought to implement an ambitious reform programme in the areas of taxation, migration and economic policy. He also engaged with the issues facing Mexico's indigenous communities, assigning a high priority to resolution of the Zapatista uprising in the South of the country. Zapatista demands in relation to greater autonomy were never implemented by Congress however, proving that Fox's prediction during his campaign that he could solve the Zapatista problem in '15 minutes' would soon prove to be too optimistic.
A colourful figure, since leaving formal politics in 2006, he has founded the Vicente Fox Center involving a study centre, library and museum in Guanajuato. The Fox Centre aims to be an internationally recognised intellectual and academic reference point in the spheres of public social and economic policy. It hosts conferences, workshops and leadership programmes.