2014 Press Releases
2014 Press Releases
UCC deemed top university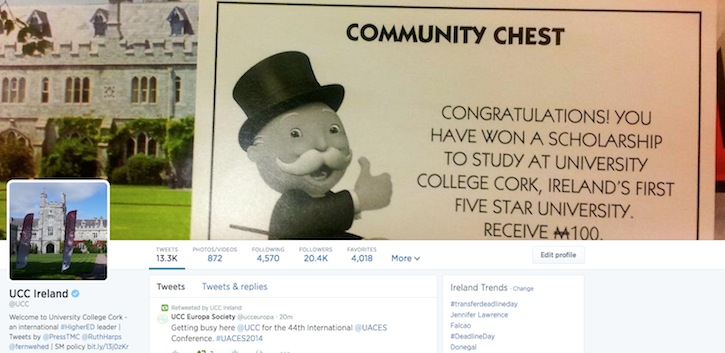 UCC is now one of the top 40 must-see universities globally thanks to the work of the UCC Visitors' Centre, Buildings and Estates, the hard-working grounds staff, and UCC's active Tripadvisor presence.
The welcome news is the latest online win for the University. Having won a Social Media Award for best social media engagement back in June, UCC's Twitter account was also recently verified, a first for any university in the country. The notoriously difficult to secure accreditation is generally reserved for key personalities and brands on Twitter. The UCC Facebook account was also verified recently. Both accounts now collectively have a following of almost 45,000.
UCC was also recently praised by The University Times, the student newspaper of Trinity College Dublin. The newspaper remarked: "UCC's helpfulness and responsivity is key to its success and shows students that, should they come to study, social media is a place where they can communicate with their university. @UCC is the Twitter account of a university that wants to help you." (See 'UCC Lead in Social Media, as Trinity Lags Behind').
Wrote this for @universitytimes on offers day: @TCDDublin losing out to @UCC in social media & priority stakes: http://t.co/vC06QMrYb9

— Jack LHY (@Jack_Leahy) August 22, 2014
UCC Lead in Social Media, as Trinity Lags Behind - http://t.co/CuFXIQ5oJv

— Steve (@9th_level_irl) August 22, 2014
The above recognition is down to the work of many staff and students across UCC, including the Digital Estate Working Group (DEWG), but also many departments, groups and individuals working to make UCC more responsive online.
The latest award comes from Flipkey.com, a travel site owned by Tripadvisor, which compiled a list of 40 must-see universities based on criteria such as best attractions, architecture, history and general beauty of campus, in tandem with "industry research and traveller feedback." UCC is one of three Irish universities listed. (See the original article here: http://www.flipkey.com/blog/2014/08/26/top-universities-abroad-worth-traveling-for/)
Speaking to the Irish Examiner, who covered the story ('UCC and TCD placed on international list of 'must-see' universities'), Tom McCarthy, Media and Public Relations Officer, said the news came as a welcome surprise to UCC ahead of the new term.
Aimed at a US audience, the Irish contingent, which also includes Trinity College Dublin and Queen's University Belfast, is in good company with a host of prominent universities making the cut, such as Australia's University of Melbourne and the UK's University of Oxford, as well as Canada, Germany and China amongst other countries with a presence.
Good news for @UCC and @TCDdublin - placed on international list of must-see universities http://t.co/ANBwrrjdoK

— Tourism Ireland (@TourismIreland) August 29, 2014
"Such organic international recognition of what UCC has to offer is really appreciated", said Tom McCarthy. "We have been working to improve UCC's visibility on Tripadvisor, which owns Flipkey, over the last few years. We are now ranked 8 out of 82 attractions in Cork for instance, with a 4.5 star rating (out of 5). Many of the positive reviews, often from international visitors or students, stem from the work of the UCC Visitors' Centre team, lead by JP Quinn, as the central greeting and guidance point on campus."
He also praised the work of Buildings and Estates and the grounds staff in making the campus so sustainable and attractive to visitors.
Delighted to see blue tick pop up @UCC! Thanks all for helping us to get verified! #UCC #Twittertastic #HigherEd pic.twitter.com/6ij6e9uAd4

— UCC Ireland (@UCC) August 14, 2014