2014 Press Releases
2014 Press Releases
Students tread the boards at Abbey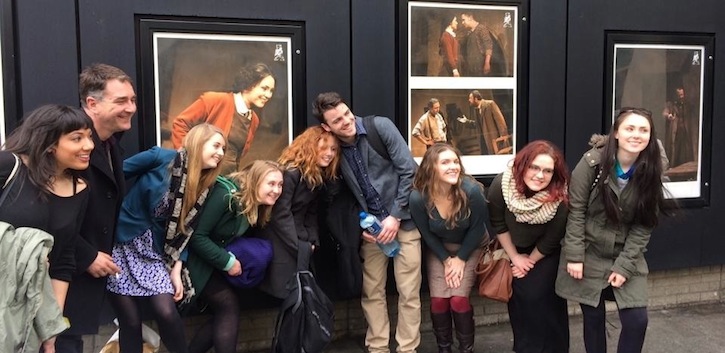 UCC Drama and Theatre Studies students have made history by staging their final year project for an audience of top casting directors and industry professionals at the Peacock Theatre in Dublin.
'Foregrounds' found a temporary home at the Peacock Theatre, the studio space of the Abbey Theatre. The event was the first performance of a Drama and Theatre Studies showcase on the national stage and was organised by Dr. Marie Kelly, Drama Lecturer at UCC and formerly Casting Director at the Abbey Theatre.
Amongst those in the audience were casting directors, Maureen Hughes, Louise Kiely, Thyrza Ging and Carmel O'Connor. There was also a large gathering of agents - Jonathan Shankey and Morris Epstein of the Lisa Richards Agency, Karl Hayden of The Agency, Maureen McGlynn and Eleanor Minihan of First Call Management, Josh Nolan of Nolanmuldoon Agency and Halina Frodist of Actors and Movers.
After the performance graduating students mingled with casting professionals and family, friends, alumni, staff and other students of Drama and Theatre Studies. Amongst these was Roísín O'Neill, a former Drama and Theatre Studies student currently appearing the lead role of John B. Keane's Sive on the Abbey stage.
Many of the first year students were working backstage and front of house for the duration of the performance, a once in a lifetime opportunity to work behind the scenes of one of Ireland's most famous theatres.
In the afternoon 22 students were treated to a workshop on the Abbey stage where they performed scenes from Sive by John B. Keane with the Abbey's Community and Education Manager, Phil Kingston. A visit to an evening performance of the play with staff and friends followed.
To round off the weekend, the students headed up to Grafton Street for a performance of 'Fishes' at Bewleys Café Theatre, followed by a post-show talk with the writer and cast (David Fennelly and John Morton), and the director of the theatre, David Horan.