2014 Press Releases
2014 Press Releases
One of Ireland's earliest biographies brought home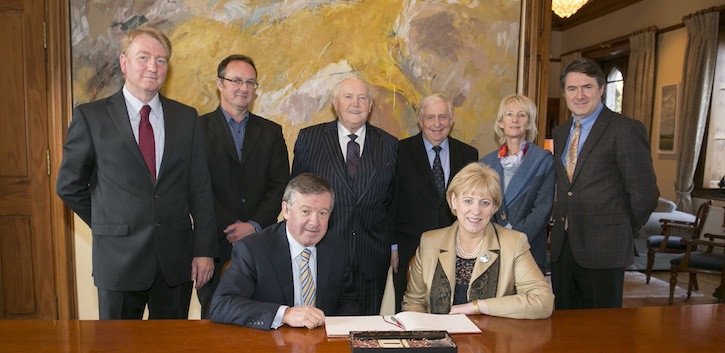 Anyone with an interest in Irish history and culture will be heartened to see one of the earliest Irish manuscripts by a known Irish writer given a new lease of life.
Preserved today in the city library of Schaffhausen (Stadtbibliothek Schaffhausen) in Switzerland and prized by scholars as a precious witness to the earliest history of Ireland, Scotland and northern England, the 'Schaffhausen Adomnán' manuscript is about to be brought back home using the most advanced photographic technology to produce exact copies in print.
The facsimile of the Schaffhausen Adomnán and its companion volume of essays is the first publication in the series Irish Manuscripts in Facsimile. Jointly published by the ArCH (Armarium Codicum Hibernensium) project at the UCC School of History and Cork University Press, project director Dr Damian Bracken of UCC's School of History explains that the story concerns one of the earliest known figures in the history of Ireland, Scotland, and northern England - St Columba of Iona. It also concerns the earliest Irish cultural links with these regions, and with continental Europe where the earliest surviving copy of the manuscript is preserved.
The Schaffhausen Adomnán contains the first biography of an Irishman written by an Irishman. St Columba, or Colum Cille, built one of the greatest Irish monastic and cultural foundations of the Middle Ages, on the island of Iona off the west coast of Scotland in the 560s. From there missionaries set out to convert much of Scotland and northern England to Christianity. In time, it grew to become the centre of a great monastic federation that stretched from Lindisfarne, in the east of England, to Durrow, in the heart of Ireland.
Columba died in 597 and one hundred years later his distant kinsman and successor as abbot of Iona, Adomnán, wrote a Life of his patron that has been described as perhaps the most sophisticated saint's Life written in western Europe in the seventh century. This was no mean achievement for a community living at the very edge of the known world. The book, and others like it, established Ireland's reputation in the Middle Ages as a land of learning.
The President of UCC, Dr Michael Murphy, presented a copy of the manuscript with a companion volume of studies to Heather Humphreys TD, Minister for Arts, Heritage and the Gaeltacht, whose Department provided funding for the project. Minister Humphreys wrote a foreword for the publication, as did President Murphy, who thanked the Department for their support, as well as Stadtbibliothek Schaffhausen, and commented:
"The Project was founded with the aim of producing facsimile editions in print of major Irish historical manuscripts. The earliest examples of Irish learning will thus become more accessible to the research community and ArCH publications will promote awareness in the wider community of Ireland's history and rich cultural heritage. The Project reflects the ethos of the University, which is to benefit the community it serves by advancing knowledge through research and it therefore gives me great pleasure as President of UCC to welcome its publication."
Dr Bracken highlights another extraordinary feature of the early manuscript:
"We know who wrote it. In a note at the very end of the book the scribe asks a favour from anyone who reads it. 'Pray for me, Dorbbéne'. A senior cleric named Dorrbéne died on Iona in the year 713. He is very probably the scribe of our manuscript. His book has survived through the turbulent centuries and today we can admire the penmanship of Dorbbéne the scribe whose work is still miraculously legible. In time, Dorbbéne's book journeyed from the world's end to Columba's followers in the heartland of Europe and through the many copies made of the book, it played a key role in the Irish contribution to the spiritual and cultural enrichment of the West."
The facsimile is the work of Dr Eric Graff, former Research Fellow of the ArCH project, who also wrote the assessment of the manuscript in the companion volume of studies. For further information, please contact the project Director Dr Damian Bracken on d.bracken@ucc.ie