2014 Press Releases
2014 Press Releases
John Spillane celebrates The English Market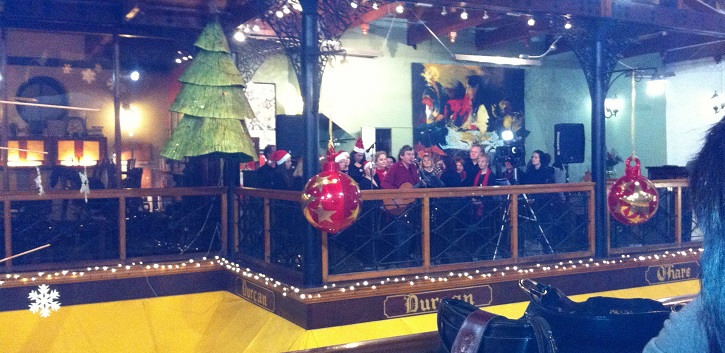 Singer and UCC alum, John Spillane, has launched his new Christmas single composed in honour of Cork's English Market, The English Market Christmas Angel Song.
John was commissioned by The English Market traders to compose the song which is included in his latest album The man who came in from the dark. More www.johnspillane.ie The UCC choir conducted by Eva McMullen provided backing for the song which John and the choir launched with great aplomb in The English Market.
John studied Irish and English at UCC while also very involved with his music career gigging with trad musician Noel Shine and Cork balladeer, Jimmy Crowley. His ambition was always to be a songwriter but he came to UCC at the urging of his mother. "My mother was driving me crazy. She said you can play your music, do your gigs and get your degree at the same time." He was very influenced by Professor Seán Ó Tuama, whose work An Dunaire "The Poems of the Dispossessed" he much admired. He aquired his blás in the language labs of Pól Frost.
@ucc choir rehearsing w/ @JohnSpillane09 ahead of @rte TV, radio, @EnglishMarket @everyman #cork this week! pic.twitter.com/hwJII7UUmG

— Eithne Hunt (@eithnehunt) December 15, 2014
Now in his early 50s, John has seen his career slowly blossom and is in the happy position of making his living entirely from his performing and composing. A major turning point was going solo, at 36, and getting a good manager, Lorcan Ennis, who secured a recording deal for him with EMI on his 40th birthday. Since then he has produced many albums, all very successful, and found himself in the Top Ten hits with his two recent albums, Irish Songs we learned at School. "Signing with EMI was a greet boost for my self -esteem" says John, as making a living from music is not easy. "I spent much of my earlier career teaching guitar lessons to half the populace of Cork as well as teaching music to troubled children in Mahon and to prisoners on Spike Island. People think that musicians are lazy but I have been extremely busy trying to make a living."
UCC and the English Market have close links as many of the artisan food producers have done courses run by the School of Food and Nutritional Sciences http://www.ucc.ie/en/fns/
Lovely evening @EnglishMarket with @JohnSpillane09 & UCC Choir for launch of The English Market Christmas Angel song! pic.twitter.com/iNuv9n1SlC

— Neil Prendeville (@NeilRedFM) December 17, 2014