2014 Press Releases
2014 Press Releases
Malawi malaria project given wings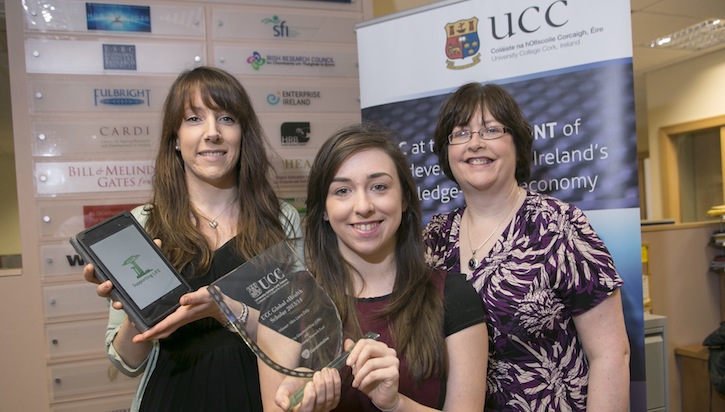 Laura Daly, a 2nd year pharmacy student from Fermoy, has won UCC's inaugural Global eHealth Scholarship for a concept that will come as a welcome boost in the fight against malaria.
Miss Daly was awarded the scholarship for a research project that sought to use mobile technology to collect data on paediatric malarial medication in Africa and to use this dataset to predict future areas of malarial drug resistance. Laura will receive €1,000 in funding to implement her idea by participating in a large EU-funded mobile health research project called 'Supporting LIFE' currently underway in Malawi, Africa. She will get to work with a large multidisciplinary team of researchers from the Department of Accounting, Finance and Information Systems at UCC, the University of Oxford, Lund University, Sweden and Mzuzu University, Malawi.
The scholarship programme is designed to encourage undergraduate students across all disciplines at UCC to take a global eHealth approach in their field. eHealth is the use of information and communication technologies (ICT) for health. It is recognised as one of the most rapidly growing areas in healthcare today and global eHealth focuses on applying ICT in developing world contexts. The Health Information Systems Research Centre at UCC established the new scholarship programme in 2013 thanks to funding from GlaxoSmithKline (GSK) and UCC's Strategic Research Fund.
Siobhán O'Connor, Director of UCC's Global eHealth Scholarship programme says, "It offers our students a fantastic opportunity to participate on the world stage and make a significant contribution to health and well-being in Africa through the application of ICT. It's an exciting area to work in as health information systems; mobile devices and cloud technologies among others are breaking down traditional approaches to healthcare. They are enabling innovative solutions to challenges faced by communities of patients, frontline healthcare workers, district and zonal health officers and Ministry of Health officials, not just in Africa, but across the globe. Laura is a deserving winner as her proposed research will have real impact on the ground in Malawi."
More information on UCC's Global eHealth Scholarship programme can be found here.

More information on the Supporting LIFE project can be found here.