2014 Press Releases
2014 Press Releases
I go to Hogwarts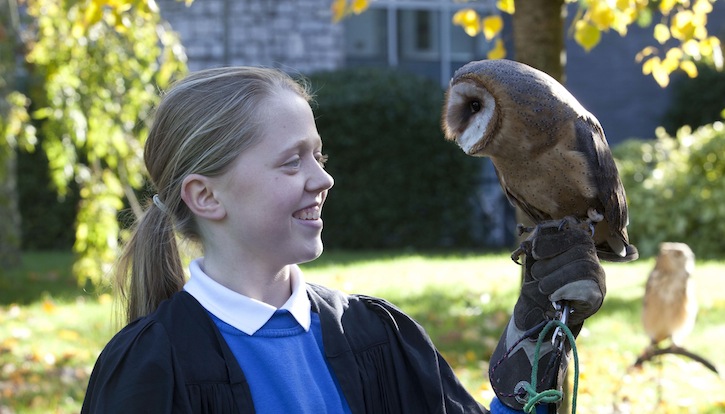 Janie Sircey thought she was going to UCC but instead found herself transported to Harry Potter's Hogwarts.
The 20 year-old advertising student on exchange from the University of North Carolina at Chapel Hill wrote a compelling argument as to why visitors should be forgiven for confusing Cork with Gryffindor, hurling with quidditch and of course UCC with Hogwarts itself.
Janie's blog recounting all of her adventures in Ireland and beyond can be viewed here: https://janiesircey.wordpress.com/
---
"When I was choosing where I wanted to study abroad, I would be lying if I said I wasn't looking for Hogwarts. I wanted to travel to a far off land to a school nestled in the green countryside, surrounded by water where I could row into campus in a boat on my first day, and most importantly, it had to be a castle. And when I found a university that fit all of those criteria, how could I pass it up?
So, I chose to study abroad at University College Cork where sitting on the quad is the West Wing, otherwise known as the castle where classes are held, where the River Lee flows through campus and the occasional currach (traditional Irish boat) will be rowed through campus, and where there is lush green scenery every way you look. I found my Hogwarts.
After over a month of living in Ireland and going to classes at UCC, the idea that UCC is Hogwarts has only been further and further confirmed. There are the little things like everyone having either a British or Irish accent, and during my Early Start program, which was deep rooted in the folklore of Ireland, I had an Irish professor who taught us about fairies and leprechauns, witches, legends and tales of the unknown. I think it's safe to say that during my first month at UCC I learned about magic.
There's also the unmistakable Peugeot car that seems to crop up everywhere in Cork, and it's almost always red. The symbol for this car is a lion on a red background, a.k.a. Gryffindor. And you can't deny that Cork's colors are red and white with the occasional yellow accent thrown in and the lion appears in the UCC crest. So I think it's fair to say that Cork is Gryffindor.
Also, I can't help but make the connection between hurling and quidditch. Both games are fast-paced and dangerous and they both fight for a shiny silver cup. Hurling, in my mind, is a blend of all of the quidditch positions, just on the ground, not in the air. In hurling, each player has their hurling bat like a beater's bat, they use the bat to hit the ball like a baseball to score points like beaters would do with the bludger - they also pick up the ball and run with it in their hand and catch it in their hand like a chaser would with the quaffle, and of course the keeper is the same as the goalie. The only thing missing from hurling is the snitch.
Then there are the parts of the city that are just too similar. Little things like the word "trolly" instead of shopping cart are of course part of the Harry Potter/European atmosphere, but it's the larger things that really prove that I go to Hogwarts. One such thing is finding out that Treacle Tart actually exists in real life. My flatmate and I found a box at Dealz in the city (Daunt Square, Cork) and we had to get them. They taste absolutely delicious and made me feel more and more like I was in Harry Potter.
Another connection is the English Market — it's a miniature Diagon Alley. Sure, the English Market only sells food and wine unlike Diagon Alley, but the entrance to the English Market is where I make the connection. The entrance is through a brick walkway that is closed off by a black iron gate when it closes. And, of course, it's surrounded by pubs, any one of which could lead to the real Diagon Alley.
The largest connections I've made have been at UCC. The other day as I was walking to class I noticed about 10 children walking through campus with what looked like a teacher. They were all dressed in long black robes and each robe had a different crest sewn into it. They all were talking excitedly to each other in their thick Irish accents and looking around at the campus in awe, especially when they reached the West Wing, or the castle on the quad. This is where they stopped and stood in a line, while one by one they were called up by their teacher and given a piece of paper to which the rest of the kids clapped and cheered. I think some lucky 11-year-olds just received their Hogwarts letters (more on that story here).
And then there's the inside of West Wing. It's drafty, it's stone, it has a dungeon, the door to each classroom is made like a castle door, but most importantly, there are dementors in the castle. They're situated at the end of the long hallway with a dull yellow light shining on them. I swear, seeing them on my way to class makes my blood run cold every time I pass them. Although, this may have something to do with the fact that they stand right next to the door that leads outside, causing a nasty draft.
All in all, I go to Hogwarts, a school filled with common rooms, dementors, and of course, magic.