2014 Press Releases
2014 Press Releases
Don't just survive university - thrive!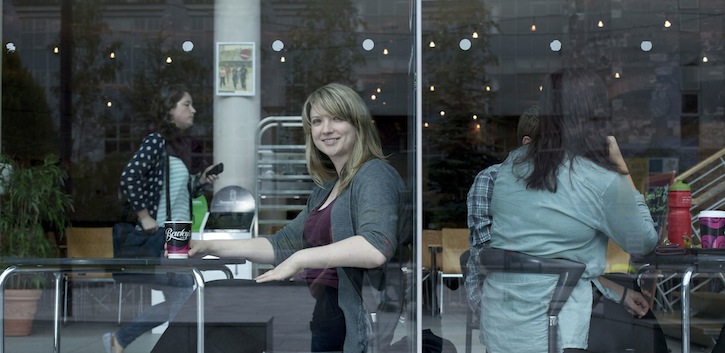 Nervous about starting or returning to university life? UCC Peer Assisted Student Support Programme co-ordinator Rebecca Murphy offers some practical and proven advice.
(Reproduced courtesy of the Irish Independent/Katherine Donnelly)
I remember my own excitement and nerves on my very first day in UCC – new people, new places, new sounds and smells, with a hundred different clubs, societies and services vying for my attention.
This autumn thousands of people, both young and old, will find themselves entering third level education for the first time (or even the first time in a long time!) and that feeling of being overwhelmed and excited will envelop them as it did to me back in 2006.
The important thing to remember is that feeling nervous and feeling uncertain is perfectly normal – everyone around you will be feeling the same, even if it doesn't seem like it.
Your orientation sessions on the first few days will be very important in getting you used to the campus, but it is absolutely ok to spend time getting lost and learning the names of the different buildings, the different rooms, figuring out how to read your timetable as well as spending time trying to remember your lecturer's names (or even the names of some of the subjects you're studying!).
When I meet students who want to work with me I ask them what they struggled with in first year. Time and time again, they mention making friends, finding their way around campus, balancing their time between the social side of college and academia, as well as managing their money away from home for the first time. These are all normal, these are all to be expected.
One of the most useful things that you can do for yourself in the first few months of college is to accept that things may take time to settle down. Most people absolutely love their time in college, but most people don't love it immediately – and that's ok.
So how can you go from being unsure to making your student experience the best it can be? When I ask the peer supporters what made the difference to them, they all say different things but it all leads to the same conclusion – they got involved!
Whether it was clubs or societies, the students' union, organising events in their accommodation or even volunteering as a peer supporter, getting involved and spending time with other people proved to be the making of their college experience.
When you leave secondary school, you leave the set of friends prescribed to you for what may have been the last 14 years of your life. Now is the time to try new things and break out of that comfort zone. It is daunting and a bit scary, but it is so worthwhile.
Most colleges and universities have clubs and societies for every taste – in UCC they range from ultimate frisbie to tea drinking – and these give you the chance to meet people who share similar interests with you and who want to make friends and have a bit of craic.
Don't underestimate the skills you will gain from being involved in these activities – in a few years when you're looking for work employers will be delighted to see that you engaged with extracurricular activities and learned how to work with people, how to organise events, how to liaise with other organisations and all the many other skills you'll pick up along the way!
Remember to reach out to those around you also – your fellow first years are in the same boat, and it may help to have a few different heads trying to solve the same problem. If you have a peer supporter like the first years have in UCC, remember to get in touch if you have an issue.
Your college website will have lots of information on the different services you can access so keep it bookmarked on your laptop or smart phone if you have one - colleges usually have services for students with disabilities and mature students as well as more general ones like accommodation, health and counselling. Your academic department and your students' union class rep will be able to help you if you have questions about the course or about deadlines etc
Take it one day at a time - get to your first class in the first week, then get to your second. Then your third. If you feel things are piling up, set aside an hour to go over everything and tackle things one at a time.
Remember that while the most important reason you're in college is to get a good education, the things that you'll remember for the rest of your life are the other stuff – the friends, the housemates (good and bad!!), the fun and the experience of being a student.
Dive in head first – you can do it.
Rebecca Murphy is co-ordinator of the Peer Assisted Student Support Programme in UCC, an initiative that encompasses 3 strands - uLink peer support, which provides a peer supporter to every single first year that enters UCC, Uplift to Positive Mental Health, which provides one to one mentoring for students with mental health difficulties, and Niteline, the listening service run by students for students.
--
Need more advice? UCC Student Budegary Advisor Evan Healy spoke to the Irish Times recently - follow the Tweet below for more!
Evan Healy, UCC Budgetary Advisor, speaks to @IrishTimes on how to get the most out of college - http://t.co/2MFH9tCczN @UCCSU #LeavingCert

— UCC Ireland (@UCC) August 14, 2014