2014 Press Releases
2014 Press Releases
Christmas on the Quad in aid of BUMBLEance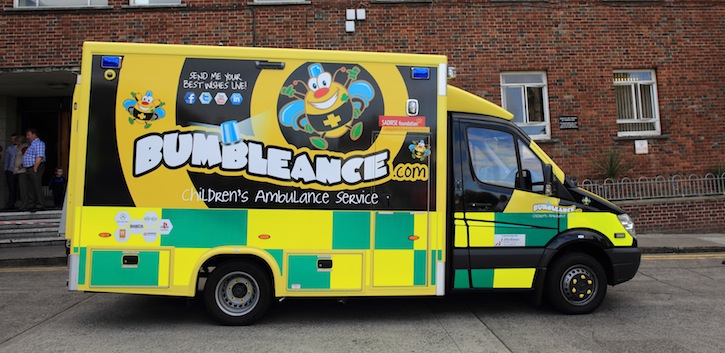 UCC is to host a fundraising candlelight walk in aid of BUMBLEance, the world's first interactive ambulance service designed specifically for children, at 5pm on Thursday 11 December.
UCC students, staff and members of the public who turn out will be serenaded by buskers and carol singers dotted around the route. It is also rumoured that Santa will visit by motorbike (the sleigh is in for its annual NCT) at the start of the walk, which begins at the Student Centre, UCC at 5pm.
A number of local schools will also take part. Following the walk, a concert will take place in the Boole Basement lecture theatres from 6pm-7pm, performed by the fantastic VoiceWorks Studio. The concert is free but all donations on the night towards BUMBLEance are appreciated.
The UCC Security team will also be selling raffle lines around campus to raise funds for the children's charity, with a range of prizes on offer.
The concept behind the non-profit state-of-the-art ambulance is as simple as it is eloquent – transform what can be an incredibly stressful trip for critically ill children and their guardians into an altogether more pleasant journey. CEO Tony Heffernan has previously commented that BUMBLEance receives no state support.
Dr Louise Crowley, Law Lecturer at UCC and also a board member of BUMBLEance, commented: "BUMBLEance, the world's first and only interactive children's ambulance, provides an invaluable service to sick children on their journeys to and from hospital. Alleviating their fears and anxieties, the BUMBLEance provides a travelling playroom of fun and entertainment, with room for Mum and Dad too. Current fundraising efforts aim to put a second BUMBLEance on the road in 2015."
Co-organiser Pat Cotter of UCC General Services/Security said: "As UCC security staff we are over the moon to be involved. All funds raised will go to the BUMBLEance. It will be a great family event in the run up to Christmas. Voiceworks will have 120 student taking part in the concert, making it a very special event."