2014 Press Releases
2014 Press Releases
Brainy app of use to many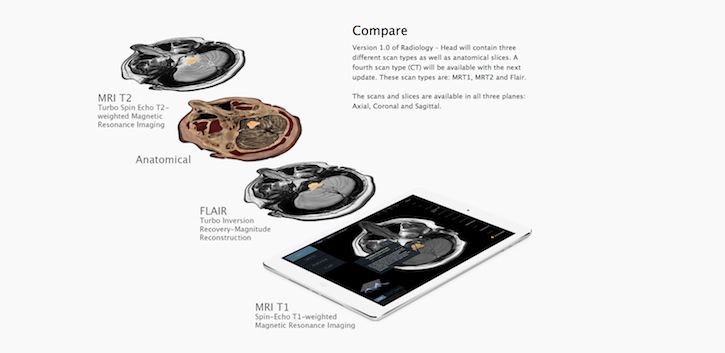 A project between UCC's Departments of Radiology and Anatomy and Neuroscience, in partnership with software company 3D4Medical, has lead to the development of the iPad app 'Radiology-Head'.
The app illustrates brain anatomy on MRI in clear and simple detail.
Dr Kevin Murphy, who is a College Lecturer in the Departments of Radiology and Anatomy and Neuroscience at UCC, believes the app will be an important resource for undergraduate medical students and all healthcare students, medical doctors and healthcare professionals in facilitating the learning of neuroanatomy. It may also be helpful for patients with neurological diseases and their families in gaining a deeper understanding of their illness.
The Radiology-Head app uses an attractive and intuitive graphics platform, designed for iPad, to illustrate neuroanatomy as seen on MRI scans. It is possible to navigate through the head in three planes (Axial, Coronal or Sagittal) showing detailed anatomy in each slice. The 3D Model of the head also allows the user to easily identify the orientation and location of the scan.
The team from the departments of Radiology and Anatomy and Neuroscience included Dr Lee Crush, Professor Michael Maher and Dr Owen O'Connor who worked closely with 3D4Medical to develop the app.
A recent iTunes review stated: "I think this is a fantastic resource for patient education - to have the ability to show my patients through the iPad, really helps them understand and visualise their conditions. A wonderful UI too. For the price - it's a bargain for any radiologist."
The app is available to purchase through iTunes at a cost of €2.69 (Compatibility: Requires iOS 6.0 or later. Compatible with iPad)
--
'3D4Medical develops radiology app with UCC researchers' (Business & Leadership)
'UCC team up to create brainy app' (Business World)