2014 Press Releases
2014 Press Releases
Applications increase for alcohol-free accommodation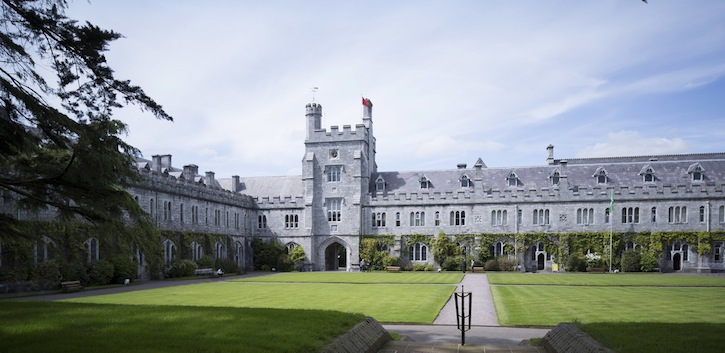 As a new term and Freshers' Week beckons at UCC, the number of students opting for alcohol-free accommodation has increased to 24, up from six last year.
The rise in demand has convinced UCC Campus Accommodation to expand the scheme further by introducing a dedicated social programme as part of a move towards wellbeing housing.
It is just one part of a larger strategy that aims to support student wellbeing and reduce the potential for alcohol-related harm and anti-social activity. UCC and the UCCSU will again be proactively working together to that end during Freshers' Week through UCC's Student Experience Office, the Student Health Department, Student Counselling and Development and other stakeholders, including the Gardaí, local residents' associations and UCC General Services.
More #students opt for @UCC @campuslivingUCC #alcoholfreeaccommodation in 2014-15 as move towards 'living learning communities' commences

— Martin Davoren (@MartinDavoren) September 8, 2014
Student Community Support (SCS) is one of the more visible initiatives. In operation since 2009, the student-led SCS, backed by UCC and the Gardaí, has successfully worked to improve the safety of students, local residents and members of the public and reduce anti-social behaviour at key times of the year.
Other initiatives include the year-round implementation of a comprehensive action plan on alcohol as part of the UCC Health Matters initiative, which won outright at the Irish Healthcare Awards (IHA) in 2013 for its actions to reduce alcohol-related harm among students. The plan has 20 specific action points (APs) and five key strategy areas, for example (excerpt from full list):
Education, information and training for students and staff: Alcohol information sessions provided to all incoming 1st years at orientation and promotion of ePUB UCC, an online alcohol educational and behavioural change tool which more than 13,000 UCC students have now completed; the training of peer support leaders; the provision of workshops and training to frontline staff on alcohol information and brief intervention
Screening, referral and treatment services: Provision of screening and brief intervention therapy to UCC staff towards identifying students at high risk of alcohol related harm earlier
Making the campus and local environment safer from alcohol related harm: Zero-tolerance policy on anti-social behaviour through Campus Watch, Student Community Support and local Gardaí; on-going promotion of the UCCStudent Alcohol Policy and the UCC Student Rules
Influence local, regional, national and sectoral alcohol policies and practises:Twice yearly (at least) meeting of a local discussion forum including students, residents and local Gardaí to help reduce alcohol-related harm and anti-social behaviour; extensive lobbying undertaken around the marketing and selling of alcohol; encouraging a sectoral approach to alcohol-related problems annually through the Confederation of Student Services in Ireland (CSSI), the Irish Student Health Association and the Irish Universities Student Services Network
Research alcohol use and monitor progress and effectiveness of strategies: A funded PhD level thesis on alcohol use by UCC doctoral student Martin Davoren, who will publish some findings in the coming months on student use of alcohol
A UCC alcohol and substance working group also meets regularly under the UCC Health Matters banner.
A CCTV system has also been in place for just over a year now in the campus area and its surrounds. The joint initiative between An Garda Sίochána, Cork City Council and UCC means three CCTV cameras are strategically positioned for broad coverage and constantly monitored by Anglesea Street Garda Station, with the aim of complimenting existing efforts in the area to better ensure the safety and wellbeing of the whole community.
Head of Student Experience at UCC, Dr Ian Pickup commented:
"As we welcome new and returning students to UCC, it is important to stress that we take their wellbeing, and our role in the local community, very seriously, as demonstrated by the variety of initiatives in place. I encourage students to enjoy their first week in UCC, but to also be respectful and mindful of those around them in the wider community, whilst also looking out for one another."
UCC Students' Union President Mark Stanton said: "In previous years a number of residents, including young families and older people, have been kept up by students and others returning from town late at night. This year, the message we are trying to send out to students is simple - 'you wouldn't like your grandparents were being kept up at night, so don't do it to others'. We want students to stop and think about their neighbours during Freshers' Week and throughout the whole year. We also will have members of the SCS out and about to ensure everything goes smoothly."
More students opt for UCC's 'dry' apartments | Irish Examiner http://t.co/9xPjA8rSGS (KOB) pic.twitter.com/a8n2Du9QE8

— Irish Examiner (@irishexaminer) September 8, 2014
Move towards Wellbeing Housing - 'Living Learning Community' Programme
Originally 48 students applied for alcohol-free accommodation this year, but this figure decreased to 24 for a variety of reasons e.g. some changed their minds or applicants did not understand the scheme fully on follow-up. Of the 16 females and 8 males who did sign up, reasons included: a wish to to concentrate on study; didn't want to live within an environment where alcohol would be present; or didn't drink. Eight Irish are among those applying, with a mix of nations making up the rest, including France, Germany, Denmark, Singapore, Malaysia, India, Australia, Austria and Canada.
The students who will partake in the 'Living Learning Community' (LLC) pilot scheme are made up of 13 incoming first year students, one second year student, five postgraduate students and five visiting international students.
Verdi Ahern, who is Academic Year Services Manager at UCC Campus Accommodation and is managing the LLC pilot, comments:
"Living Learning Communities are about students with similar academic and co-curricular interests living and learning together in an environment that encourages wellbeing and social and academic engagement. Each Living Learning Community is facilitated by Campus Accommodation staff, UCC staff and UCC Peer Support Volunteers. Faculty partners interact informally on a regular basis and get to know students on many levels. This support network of classmates, faculty, peer supports and housing wardens is geared towards helping students thrive at university."
Irish Language and Culture is one stream of the LLC housing, for students who wish to explore the richness and diversity of Irish Language and Culture including poetry, dance, music and literature. This community will link in with Áras Uí Thuama, the existing Irish Language Housing, Ionad Na Gaeilge Labhartha and An Seomra Cadrimh. Activities (imeachtaí) will include Irish Cultural Nights and trips to the Kerry Gaeltacht (Dún Chiomháin).
Wellbeing Housing is the second LLC stream, for students who wish to explore how to live a better life and how to improve the wellbeing of others. Among the activities are a healthy living lecture series, assistance in achieving a healthy and balanced life via trips and activity weekends away and the use of mentoring.
The number of students in alcohol-free accommodation in UCC has quadrupled (via @thejournal_ie) http://t.co/I0ZltmZH3M

— Senator Colm Burke (@SenColmBurke) September 8, 2014