2014 Press Releases
2014 Press Releases
AnaBio wins Company of Year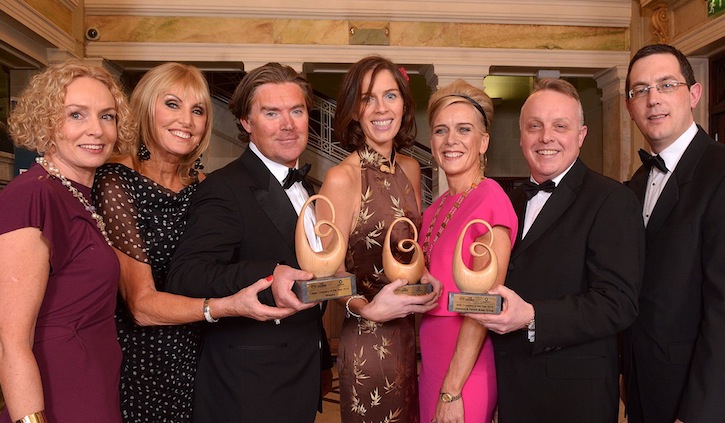 Dr Sinead Doherty's AnaBio Technologies Ltd has been named Cork Chamber of Commerce Emerging Company of the Year 2014 at the Cork Chamber Annual Dinner.
Cork Chamber, in association with Vodafone, recently announced AnaBio Technologies Ltd as the winner of Emerging Cork Company of the Year for 2014. AnaBio Technologies Ltd was in good company: Johnson & Perrott Motor Company was awarded the Cork SME Company of the Year Award and Voxpro was awarded the Large Company of the Year Award and was also named as the overall winner of the Cork Chamber/Vodafone Cork Company of the Year Award.
Launched in 2011, technology-based company AnaBio Technologies Ltd develops microscopic capsules to protect food ingredients, animal feeds and therapeutics. The company manufactures products which use milk proteins and other biomaterials to create capsules that can protect and deliver sensitive ingredients to a target site in the human or animal body. To date, the company has a clutch of product patents and an array of Irish and international food industry clients lining up to make use of its encapsulation technology to protect ingredients, as they deliver health benefits. AnaBio has validated and patented several technologies relating to sports nutrition, diabetes and weight management products.
The Emerging Company Award was presented to Dr Sinéad Doherty, Founder and CEO of AnaBio Technologies Ltd. Dr Doherty said, "I am thrilled and honoured to receive this Award on behalf of our team at AnaBio. In such a short time, we have shown that our commitment and drive to develop successful and marketable products, has paid off. This award also recognises our success in securing a stream of multinational clients, to allow us to grow and develop the business on a global scale."
Sinead received her PhD in Microencapsulation from University College Cork following an MSc in Protein Chemistry from Michigan State University, USA and a BSc in Food Science from University College Dublin.
In her acceptance speech, Sinead acknowledged the support of staff at Teagasc, Moorepark - Dr Paul Ross, Dr Catherine Stanton and Dr André Brodkorb - and of Eamon Curtin, Director of UCC's IGNITE Graduate Business Innovation Programme.
The company now employs four people and retains facilities in Teagasc, Moorepark and UCD. See www.anabio.ie for further information.