Latest News
Latest News
UCC announces new research drive for Quantum and Photonics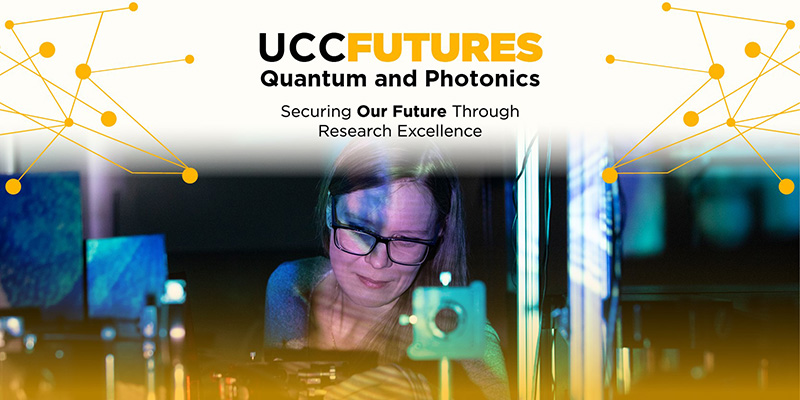 Applications open for 11 new academic positions at UCC and Tyndall National Institute.
Closing date for applications is 12pm (Irish Standard Time) on Tuesday 5th December 2023.
University College Cork (UCC) has launched a new era of synergistic research aimed at pushing the limits of quantum and photonics theory, materials and technology – key elements of the second quantum revolution.
UCC Futures – Quantum and Photonics is the next phase of the University's ambitious new programme of research recruitment and prioritisation. This latest stage will drive a generational change across multiple sectors, including fundamental quantum physics, quantum computing, quantum photonics, photonic devices and systems, data transfer, quantum metrology, sensing, quantum matter, healthcare, environment, energy and communications.
UCC Futures - Quantum & Photonics is an innovative multidisciplinary team, building on the powerful synergies of our globally renowned quantum and photonics research in the Schools of Physics, Engineering and Architecture, and Mathematical Sciences, and Tyndall National Institute.



Professor John F. Cryan, UCC Vice President for Research and Innovation said: "We are delighted to launch the next phase of the UCC Futures recruitment programme – Quantum and Photonics. Building on world class research at the Macroscopic Quantum Physics Laboratory and our research flagship Tyndall National Institute, UCC Futures – Quantum and Photonics will further enhance UCC's established research in this area, contributing to the global understanding and development of new quantum technologies and the next generation of semiconductor technologies."
As part of this new initiative, UCC today announces that applications are sought for 11 academic positions as part of UCC Futures – Quantum and Photonics. The appointment of researchers of excellence, from Lecturer to Professor, across multiple Schools, will connect disciplines and promote interdisciplinary research opportunities across all Colleges, particularly within the College of Science, Engineering & Food Science and Tyndall National Institute.
These academic posts are a key part of the UCC Futures – Quantum and Photonics recruitment programme. Applications are particularly welcome from those with a disruptive and transformative research focus and from those at the intersection of these disciplines.
Professor Alix McCollam, Director of UCC Futures – Quantum and Photonics and Professor of Quantum Technology at UCC, said: "We are hugely excited to begin recruitment for new colleagues who will work with us to build world-leading research programmes across the interconnected fields of Quantum and Photonics. The new appointments will allow us to develop new synergies and research directions within UCC Futures - Quantum and Photonics, further broadening the engagement of our interdisciplinary team and combining fundamental research, industrial partnerships, education and training to secure the technological and economic future of our society."
Professor Paul Townsend, Head of Photonics at Tyndall National Institute and Director of IPIC the SFI Research Centre for Photonics, said: "To deliver the transformational quantum and photonic technologies of the future requires the ability to fabricate devices at atomic scales from diverse material types, and to integrate these devices together to form complex, application-specific circuits and systems. We are excited to bring our world-class fabrication and integration capabilities at Tyndall and IPIC to bear within the UCC Futures initiative to develop these new chip technologies, which will play a key part in addressing the outstanding societal challenges of our day."