Industrial Pharmaceutical Sciences, Operations & Management
About This Course
Fact File
Title

Industrial Pharmaceutical Sciences, Operations & Management

Code

MSCIPS

College

Duration

12 Months

Teaching Mode

Full-time

Qualifications

MSc

EU Fees

€10,630
See Fees and Costs for full details.

Non-EU Fees

€18,500

Entry Requirements

See Requirements for full details.

Closing Date

Closed for applications

Non-EU Closing Date

Closed for applications

Start Date

4 September 2023
Course Outline
The MSc in Industrial Pharmaceutical Sciences, Operations and Management is a unique postgraduate qualification designed to maximise graduate employability in the biopharma and pharma industries. The programme is designed by industry for industry to ensure graduate success in the marketplace and will be delivered by the School of Pharmacy and Cork University Business School. The programme covers the technical, regulatory, operations and management aspects required in the biopharma & pharma industry. In addition, we cover digital transformation, the Pharma 4.0 operating model and lean six sigma, thereby future-proofing students for the factory of the future.
We place a major focus on experiential learning through an 8-month paid industry placement (from January to August) and the use of state-of-the-art pilot scale biopharma & pharma manufacturing facilities in the School of Pharmacy and digital simulation facilities in the UCC Assert Centre, as well as the Cork Enterprise Training Board Life Sciences Facility in Carrigaline.
You will learn the fundamentals through extensive simulation in practical laboratory work and workshops using real-world equipment and scenarios. There will be a significant element of learning through the use of case studies, with industry-based guest lectures delivering content across many modules. In addition, core technical, regulatory and operations modules will be delivered by lecturers with significant industry experience.
On this programme, you will undertake a total workload equivalent to 90 credits over the 12-month programme as follows:
Core Modules (50 credits)
Elective Modules (10 credits)
PF6035 Lean Six Sigma for Biopharma (10 credits) or
PF6037 Digital Transformation & Novel Products in the (Bio)Pharma Industry (10 credits)
Project (30 credits)
PF6036 Industry-based Dissertation & Placement (30 credits)
Course Practicalities
The MSc in Industrial Pharmaceutical Sciences, Operations and Management is an intensive 12-month full-time programme, with semester 1 based on campus with lectures, workshops, and practical labs taking place between Monday to Friday 10am-6pm, with occasional evening online lectures. Full attendance at lectures, workshops and practical labs is required. The programme timetable will be favourable to those commuting significant distances.
Students undertake their industry-based placement in semesters 2 and 3. This will comprise approximately 4 days a week, with two days per month based on campus for in-person workshops. Lectures in semester 2 will be delivered asynchronously and live synchronously.
Students on international placement will be fully supported to ensure participation in all teaching activities while on placement through live streaming, recording etc of any in-person lectures and workshops. Any mandatory on-campus dates in semesters 2 & 3 will be communicated in semester 1.
Continuous assessment is the sole form of module assessment and will be performed through MCQs, assignments, group projects and presentations.
Note: Fees include all bench fees, equipment costs and field trips.
Human Capital Initiative
Development of this course has been supported by the Higher Education Authority under the Human Capital Initiative, Pillar 3. Grant agreement: 18351800 'The iEd Hub'.
Why Choose This Course
The Industrial Pharmaceutical Sciences, Operations & Management MSc programme is the only one of its kind in Ireland that incorporates Industrial Pharmaceutical Sciences and Management targeted at the biopharma & pharma manufacturing industry. The programme has a number of benefits:
An 8-month industry placement
A multi-disciplinary programme designed with industry
Practical & applied industry focus with 60 hours of hands-on practicals
Industry experienced lecturers
Guest industry lectures across all modules
Prior industrial experience is considered the most relevant factor in determining employability for new graduates in the marketplace so as part of this programme you will undertake an industrial placement providing you with invaluable experience when applying for graduate roles in the biopharma and pharma industry.
On this programme, you will take over 60 hours of training in hands-on simulated manufacturing environments in state-of-the-art teaching facilities at UCC. We are the only higher education provider nationally that boasts such on-site facilities. You will also have access to the ASSERT Centre, a nationally recognised leader in medical simulation training, which will also be used to deliver course content ensuring that our students are trained using cutting-edge, best-practice digital teaching technologies including virtual reality. These facilities combined with industry-based lecturers will give you a unique educational experience and enable high employability upon graduation.
We have designed this programme in collaboration with the School of Pharmacy, the Cork University Business School (CUBS) and the educational consortium iEd Hub. The unique combination between the School of Pharmacy and CUBS will provide our graduates with both technical and transversal skills to be successful in a wide range of positions in the biopharma & pharma industry.
IEd Hub features the Cork region's universities, enterprise stakeholders, and leading industries in the Health and Life Sciences sector. Our focus is to deliver a suite of programmes that provide a holistic education - featuring both technical and non-technical skill sets, with students spending their time between industry sites and academic campuses. iEd graduates are embedded with the skills and values needed to forge the future in the Irish Industry.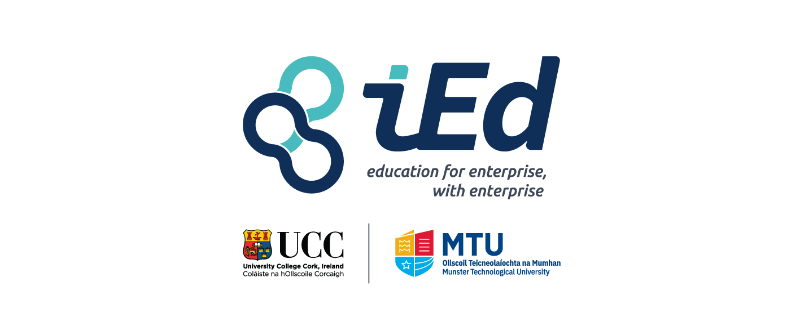 Placement or Study Abroad Information
All our MSc students will undergo an 8-month industrial placement* with a major pharma or biopharma industry partner or in an academic research setting. The majority of placements will be based in Ireland and the Munster region. Some placements may be international in nature. A dedicated placement coordinator and the programme team will manage the securing of placements and preparing students for interviews and entering the workplace on placement. In exceptional circumstances, it may be required for students to conduct their placement and project on campus, which may not be paid.
*Note for International Applicants: This is subject to visa requirements. Currently, international students can take placements for up to six months.
Skills and Careers Information
Due to the unique and broad nature of the programme, our graduates will have a wide range of roles open to them both in the short-term post-graduation and also in the longer term. Industrial Pharmaceutical Sciences, Operations & Management graduates will have the technical knowledge to work both in large (biopharma) and small molecule (pharma) manufacturing environments. Graduates will also have the competencies to embark on a management career pathway in the longer term with the programme focus on management and transversal skills.
Potential roles open to our graduates include:
Analytical development scientist
BioPharma project/programme management
BioPharma supervisory/management
Manufacturing scientist
Operations/production staff
Pharmaceutical engineer
Process scientist
Process support scientists/engineer
QC technical support
Quality assurance/quality systems specialist
Regulatory affairs scientist/officer
Tech Transfer
Technical operations
Validation scientist/engineer
Requirements
Applicants must have at least Second Class Honours Grade 2 in a primary honours' degree (NFQ, Level 8) in any of the following relevant subject areas: chemistry, biology, biochemistry, physiology, pharmacy, pharmaceutical sciences or science, healthcare science, technology, or process engineering. Eligible applicants may also be invited for an interview. Selection from among eligible applicants will be made according to the following criteria:
• Performance in their primary degree
• Personal statement
Consideration under Recognition of Prior Learning (RPL) may also be given to applicants who do not meet the above entry requirements but who have relevant professional experience in a suitable field. To demonstrate relevant professional experience, applicants will be assessed on the following criteria and an interview may also be required.
• Academic achievement
• Relevant industry experience
• Personal statement
• Reference
Fees and Costs
The EU fee for this course is €10,630.
The Non-EU fee for this course is €18,500.
How Do I Apply
Additional Requirements (All Applicants)
Please note you will be required to provide additional information as part of the online application process for this programme. This will include the following questions:
You may enter the details of professional or voluntary positions held. We strongly encourage you to complete this section with all relevant work experiences that will support your application.

In addition to your previously declared qualifications, please outline any additional academic courses, self-learning and professional training relevant to this programme.
The closing date for non-EU applications is Closed for applications
Apply Now
For queries regarding course content or timetables please contact