News
News
UCC/CIT: A Decade of Collaboration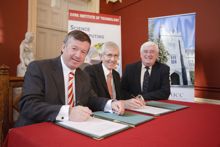 A decade of collaboration between University College Cork (UCC) and Cork Institute of Technology (CIT) was celebrated today (Monday, November 30th 2009) by UCC President, Dr Michael Murphy and the President of CIT, Dr Brendan Murphy. A Memorandum of Co-operation was signed in the presence of the Minister for Education and Science, Mr Batt O'Keeffe, at a special ceremony in Cork. The extensive co-operation between both institutions over the past 10 years has spearheaded the drive in Ireland for greater cross-fertilization in the higher education sector.
One of the major highlights of the joint initiative was when 16 graduates received their MSc in Biomedical Science during a joint awards ceremony in October 2007, the first occasion on which both institutions had come together for such a ceremony. Last year, Dr Kevin James, Director of PROTEOBIO, CIT's Mass Spectrometry Centre for Biotoxin and Proteomics Research, was appointed the first UCC/CIT adjunct professor. The CIT centre will work closely with UCC's Environmental Research Institute, there will be a sharing of research facilities, and five new programmes will lead to a jointly awarded PhD qualification.
Speaking at the Signing, UCC President, Dr Michael Murphy said UCC and CIT were committed to leveraging the institutional strengths of both organisations for the benefit of Cork, Munster and the State. Dr Brendan Murphy, President, CIT, said the collaboration was about recognising and celebrating the achievements of the past and creating a framework for developing and enhancing the future strategic partnership between UCC and CIT.

NEMBES
NEMBES is a PRTLI4 funded inter-institutional and multi-disciplinary research programme that investigates a "whole system" approach to the design of networked embedded systems, marrying expertise in hardware, software and networking with the design and management of built environments. NEMBES aims to bring together key national experts in the field and make Ireland a recognised international centre of research, education and innovation in networked embedded systems research and applications. This programme is led by Dr Dirk Pesch of Cork Institute of Technology and UCC is a partner (Profs Gene Freuder, Cormac Sreenan, Karsten Menzel, Kevin McCartney; Drs Ken Brown, Cian O'Mathuna).
INSPIRE
INSPIRE - Integrated NanoScience Platform for Ireland is another national collaborative research project involving 7 HEIs including UCC and CIT. The research programme is funded by the Higher Education Authority through the Programme for Research in Third Level Institute (PRTLI 4).

ITOBO
ITOBO, the SFI Strategic Research Cluster for Sustainable and Optimised Building Operation, undertakes research in Information and Communication Technology that will enable the development of a holistic, methodological framework for life-cycle oriented information management and decision support in the construction and energy-management sectors. The domain-specific goal is to develop an anticipating (smart) building that operates on an energy efficient and user-friendly basis while reducing its maintenance costs. The Cluster Director is Prof. Karsten Menzel of the UCC Civil and Environmental Engineering Department. Gene Freuder is Co-Director; Ken Brown and Greg Provan are also among the seven PI's. ITOBO also involves the Tyndall National Institute and the Environmental Research Centre at UCC, and the Cork Institute of Technology (and the National University of Ireland, Galway, along with industry partners, Cylon, Vector FM, ARUP, HSG, and Intel).

First Adjunct Professor for UCC and CIT
The first Adjunct Professor for UCC and CIT, Dr Kevin James, was celebrated on Thursday, May 29th 2008 at a reception held in his honour. Professor James is the Director of PROTEOBIO, the Mass Spectrometry Centre for Biotoxin and Proteomics Research at CIT. The main responsibility of his appointment is research and involves extensive collaboration with the Environmental Research Institute (ERI) in UCC. He first formulated links with Professors John O'Halloran and Gavin Burnell in the Department of Zoology, Ecology and Plant Science (ZEPS) at UCC in 2001, initially on three projects funded by the HEA in the area of Harmful Algal Blooms (HABs). This developed into on-going co-operation working on the quality of freshwater lakes and the marine environment, particularly shellfish toxicity. He is Principal Investigator in a major recent funding under the HEA PRTLI-4, for 'Environment and Climate Change', involving research collaboration with 10 institutes. This will include more than €2 million funding to PROTEOBIO and will involve collaborative research with Professor O'Halloran and Dr Frank van Pelt, of UCC. Under this programme, new instrumentation facilities have been established in PROTEOBIO, CIT, and there are five new PhD programmes which will lead to a joint award (UCC and CIT) PhD qualification. Research students will have access to facilities at both UCC and CIT - particular in the new programmes where there is formalised collaboration. This is the first time that there is this level of co-supervision of PhD research and it will lead to awarding joint PhD degrees by UCC and CIT.

Research collaboration between Tyndall National Institute and CIT
The first ever quantum dot in Ireland designed to lead to faster broadband speeds, has been "grown" by researchers at UCC's Tyndall National Institute and CIT. Twenty-one researchers from CIT, including 14 PhD students, are based at Tyndall National Institute. These highly-skilled researchers and students benefit from access to state-of-the-art Information and Communication Technology (ICT) facilities and expertise at the Tyndall National Institute. As the demand increases for delivering more information at faster speeds through optical fibre, telecommunications operators need faster, cheaper and more efficient signal-processing devices. To achieve this goal, world-leading researchers at Tyndall and CIT have developed a number of devices for manipulating light which can benefit from these quantum dot structures.
This development represents an important milestone for the consolidation of Ireland's position as one of the European leaders in photonics research Through the HEA (PRTLI) , Science Foundation Ireland and Enterprise Ireland funding, the Tyndall/CIT partnership has acquired state-of-the-art facilities attracting and retaining world-leading experts to further our progress in research and educate and train students from both institutions.

Access-based projects funded by SIF 2 - UCC/CIT Collaboration
Bridges to Learning is a partnership project for inclusive higher education in the southern region between UCC and CIT (incorporating its associated Colleges and Schools). This strand focuses on schools, community-based groups, and voluntary/statutory agencies, and is designed to raise educational aspirations. It seeks to increase the number of disadvantaged and mature students accessing science and technology programmes. Both institutions will also collaborate with TCD Centre for Deaf Studies, and UCC alone will work with TCD's Certificate in Contemporary Living.

Connections aims to provide a model for regional partnerships to deliver on the National Access agenda. The project will also help to inform national access and widening participation policy by reviewing and evaluating data from collaborating institutions, analysing data of 'what works', and supporting the social dimension of higher education under the Bologna process. The partnership will link with regional networks in Dublin, Galway, Limerick and Waterford.

The Cork Centre for Architectural Education
This joint venture between UCC and CIT is supported by Cork City Council and the architectural profession within the region, the Cork Centre for Architectural
Education represents a unique undertaking and a natural development of cross-institutional collaboration and partnership. The BSc (Hons) Architecture is part of the Cork Centre for Architectural Education and is based on collaboration between UCC and the Cork Institute of Technology.

MSc (Biomedical Science) - Historic UCC/CIT Conferring
Friday, October 19th 2007 was an historic day for UCC and CIT as 16 graduates received their MSc in Biomedical Science parchments in a joint awards ceremony. This was the first occasion on which both institutions had come together for such a ceremony. UCC and CIT were part of a consortium that included the joint awarding bodies, the National University of Ireland (NUI) and the Higher Education and Training Awards Council (HETAC). The ceremony marked a new departure in cooperation between UCC and CIT.

BSc Biomedical Science
This degree programme is jointly delivered by UCC and CIT and provides training in 'state of the art' technologies to facilitate investigation of disease and medical research drawing expertise in both institutions.

Genesis Programme
Enterprise Development Programme for new start-up businesses which involved CIT linking with with Tyndall and potentially the APC

PRTLI Cycle 5 collaborations
| | | |
| --- | --- | --- |
| Food and Health: generating wealth through innovative and collaborative research | BioSciences Institute | CIT contributing expertise on plant bioactives, complementing UCC's dairy and marine expertise |
| Environmental Research Institute at the Maritime and Energy Cluster, Ireland | National Maritime College of Ireland | CIT sharing land with UCC in national project to develop the ocean energy industry |
| Environmental Research Institute - Green Gas Technology Ireland | Environmental Research Centre | CIT contributing expertise on sensors for a biomethane gas generation project |

Science and Technology Teaching and Learning Centre (STTLC)
Collaboration between UCC, CIT and key industry stakeholders will help to ensure that the deficit of students, and subsequently graduates, in the areas of science and technology is eliminated and that a steady stream of highly qualified graduates will be produced to fuel Munster's growing technological sector. This collaborative project has been established by the College of Science Engineering and Food Science at UCC in collaboration with partners in CIT and received start-up seed funding from the Strategic Innovation Fund (SIF) Cycle 2 under the Bridges to Learning strand. The STTLC will provide Continuing Professional Development (CPD) for science teachers. The STTLC will also provide support and access to top class laboratory facilities and technological resources for school pupils.

Maritime and Energy Cluster (MErC) at Ringaskiddy – ongoing development
The MErC initiative is a partnership between UCC, CIT and the Naval Service at Haulbowline. It aims to develop a new "Tyndall-type" venture in Maritime and Energy for the 21st century that will attract job creating investment from home and abroad based on the highest educational standards, research skills and facilities, and access to industry. MErC brings UCC, CIT and NS together, for the first time in a tripartite relationship, with the mission of providing an integrated, high value, critical mass for the development of the Maritime and Energy sectors. For the NS, MErC will facilitate the transition of the Service to a knowledge institution. The three key partners will work with associates such as Enterprise Ireland, IDA, Marine Institute, Sustainable Energy Ireland, Bord Gáis, Marine Renewables Industry Association and others. The project has been catalysed by the substantial funding pledged by the government to upgrade the technical facilities of UCC's HMRC which will form part of MErC – the HMRC is a key infrastructural support in the Government's Ocean Energy Strategy. The IDA and Bord Gáis have also promised to make significant support available to MErC. The MErC vision is "To promote Ireland as a world class maritime and energy research and development location, through the provision of a national Maritime and Energy Cluster, and thereby to achieve a competitive, high quality and sustainable maritime and energy sector." The three partner institutions have agreed to develop a cluster of specialist academics, researchers, innovators, teachers and interested business people and enterprises aimed at creating an internationally renowned Centre of Excellence in the fields of Maritime and Energy. The cluster will be centred on the developing campus at Ringaskiddy, Co Cork. The achievement of the vision for MErC will result in a critical mass of expertise and infrastructure which will give Ireland a place at the forefront of two key industries of the future: Maritime and Energy.

Diploma in Applied Business Computing
The Diploma in Applied Business Computing is offered by UCC Adult Continuing Education Centre in conjunction with the CIT and in association with the Cork City Partnership Ltd. The programme aims to provide valuable IT skills to students in the development and operation of IT infrastructures. The courses also addresses basic concepts and issues relating to e-commerce and e-business.

Pictured at the Signing of a Memorandum of Co-operation between UCC and CIT were: Minister for Education and Science, Mr Batt O'Keeffe, UCC President, Dr Michael Murphy and CIT President, Dr Brendan Murphy.