News
News
Research Partnership established between UCC and Altobridge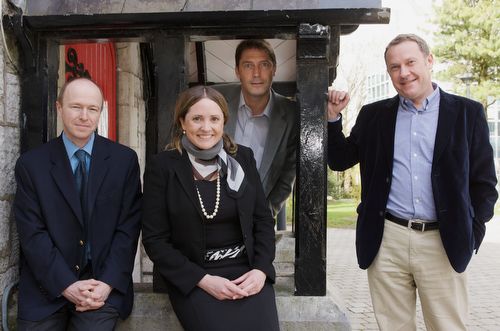 A research project which will enable cost-effective mobile internet access for remote communities has been announced between UCC and Altobridge Ltd. The UCC-led project, BACOPT ("Back-haul Optimisation in Heterogeneous Wireless Access Networks"), which will lower the cost of 3G mobile Internet in remote villages, airplanes, boats and oil platforms, is being led by Professor Cormac Sreenan of UCC's Computer Science Department.
The BACOPT project under Enterprise Ireland's Innovation Partnership programme is part-funded by Irish company Altobridge Ltd, a world leader in the development of mobile communications over satellite for remote communities, including the aeronautical and maritime industries. The research will involve a team of computer scientists at UCC collaborating with telecommunications engineers from Altobridge to conceive novel approaches for optimising data delivery, leading to reduced costs for satellite usage and thus opening up the Internet for new users.

Professor Sreenan said the ubiquity of mobile Internet that we take for granted does not naturally extend to remote sites that rely on expensive satellite links to connect mobile networks to the Internet. Users in such remote communities are increasingly seeking Internet access but at tariffs that are not sky high! This collaboration is particularly significant for users in developing countries where wired networks are less prevalent and so mobile access to the Internet is relied upon for education, commerce, medical, entertainment and social needs. The research is challenging and will require breakthroughs in the design of software and communication protocols for these remote networks. Outcomes of the BACOPT project will be evaluated on an experimental mobile network that links UCC and the Altobridge headquarters in Tralee.

Dr Michael Murphy, President, UCC welcoming the establishment of the project said: "Partnering with industry and funding agencies such as Enterprise Ireland is a fundamental aspect of the university's strategy. I am particularly proud of the partnership between Altobridge (a company founded by UCC graduate Mr Mike Fitzgerald) and the School of Computer Science and Information Technology. Core to the partnership is the BACOPT project which will provide exciting research opportunities for UCC staff and students while enabling further innovation at Altobridge. Relationships such as these are critical for all partners and for economic growth".

Visit http://www.altobridge.com

Picture L-R: Professor Cormac Sreenan, Department of Computer Science, UCC; Karen Kelly, Development Manager, UCC; Mike Fitzgerald, CEO, Altobridge and Richard Lord, CTO Altobridge.