News
News
Prize for Best Student Paper awarded to Ahmed Khalid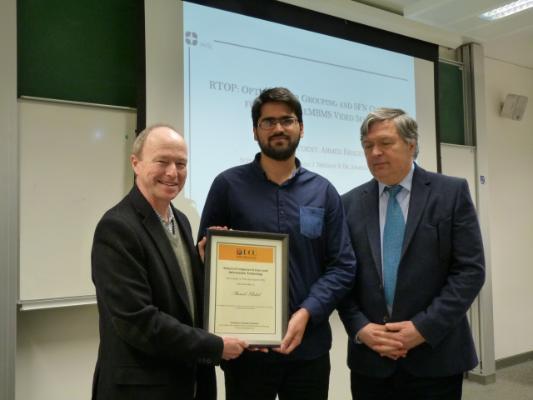 Ahmed Khalid, a 4th year PhD student receives the award of Best Student Paper of 2018 at a ceremony in UCC on 14th March 2019.
Title of Paper: "RTOP: Optimal User Grouping and SFN Clustering for Multiple eMBMS Video Sessions"
Supervisors: Professor Cormac Sreenan and Dr Ahmed Zahran
The paper will appear in the peer-reviewed proceedings of the 2019 IEEE International Conference on Computer Communications (INFOCOM), a top-ranked venue for publications in computer networking.
The award was made after a competitive process overseen by a panel of academic experts. This is the first year that the prize has been awarded in the School of Computer Science & Information Technology.
Ahmed Khalid's research is funded by Science Foundation Ireland.
On behalf of us all in the school, we wish Ahmed our congratulations.