Marriage Equality Referendum 2015
Marriage Equality Referendum 2015
Yes Equality

Ireland Said Yes!
The LGBT staff network was incredibly proud to be part of the movement that saw Ireland voting Yes to Marriage Equality on May 22nd.
A UCC Says Yes event, organised by UCC Students' Union and supported by Yes Equality Cork and the UCC LGBT society and UCC LGBT staff network gathered UCC community members for a photoshoot on the quad in UCC. Here is a link to some announcements abou the event:
http://yesequalitycork.com/tag/cork-marriage-referendum-marriage-equality-ucc-government/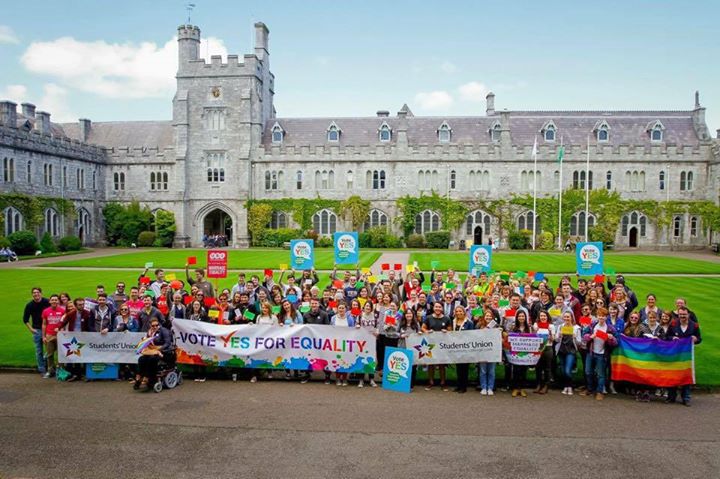 Our committee members played their part in various ways.
Our chairperson Laurence Davis had many newspaper articles published in the leadup to the vote:
Laurence Davis (2015) 'This referendum will be remembered as a victory for equality, democracy and love', Thejournal.ie, 24 May 2015: http://www.thejournal.ie/readme/referendum-victory-for-equality-democracy-and-love-2119506-May2015/
Laurence Davis (2015) 'Marriage equality fight must be just the start', Evening Echo, 7 May 2015: http://pages.cdn.pagesuite.com/1/f/1f95f8ef-651c-45aa-8e88-03a74a5220b8/page.pdf
Laurence Davis (2015) 'What we talk about when we talk about love equality', The Sunday Times, 22 March 2015: http://www.thesundaytimes.co.uk/sto/news/ireland/News/article1534603.ece
Laurence Davis (2015) 'The fight for gay marriage is only the start of a long struggle', Irish Examiner, 19 February 2015: http://www.irishexaminer.com/viewpoints/analysis/the-fight-for-gay-marriage-is-only-the-start-of-a-long-struggle-313385.html
Cathal Kerrigan's letter was published in the Irish Times: http://www.irishtimes.com/opinion/letters/marriage-referendum-the-final-days-of-campaign-1.2214488
Watch our webmaster Rebecca Murphy on Huffington Post Live:
http://live.huffingtonpost.com/r/archive/segment/irish-voters-head-to-polls-for-landmark-lgbt-vote/555f89062b8c2aba45000278
Marriage Equality Referendum 2015
The government has announced that the referendum on Civil Marriage Equality will take place in Spring 2015.
For information on this, and details on how to make sure you are registered to vote, please check out www.yesequality.ie or see them on facebook: https://www.facebook.com/yesequality or twitter: https://twitter.com/YesEquality2015
This very interesting booklet provides lots of information on why Marriage Equality for LGBT couples is important for Ireland: