News
News
UCC marks execution centenary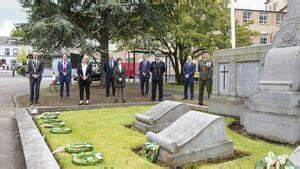 At the weekend, University College Cork commemorated the 13 Irish Republican Army Volunteers executed by the British government on different dates in 1921 and buried within the walls of Cork Men's Gaol, which was later to be become part of the UCC campus.
The university retained the mass grave and its stone memorial, and at a brief ceremony on Sunday, Interim President Professor John O'Halloran described the memorial as a direct link, 'to a conflict which profoundly affected the entire island'.
Professor O'Halloran told the small gathering that that 'this mass grave has become an important site of national memory.' He added, 'The legacy of the 13 executed men and their struggle for independence, remains interwoven within the fabric of both this university and our broader community.'
Read full story.